sunday | 1:30-2:30pm
As current restrictions around public worship have recently been lifted (BC Restart Plan Step 3), we are now able to gather in greater numbers, sing together and observe a greater flexibility with physical distancing. We are so excited to welcome you back to worship together!
WORSHIP VENUE
We are currently displaced from our church building to give way to the seismic and structural upgrade of our heritage building and so, we are meeting at our temporary worship location just across the street from FBC - St Andrew's Church (1022 Nelson St) starting this fall.
In the video below, we hope to bring you for a short tour around St Andrew's Church so you will get an idea of what you will experience when you visit us!
---
MASK POLICY & SAFETY MEASURES
On November 30, the Provincial Health Officer introduced two new restrictions surrounding religious gathering. This update was put in place as we enter the winter season to help us to continue to gather safely.
1. MASKS ARE REQUIRED IN ALL INDOOR RELIGIOUS GATHERINGS FOR ALL INDIVIDUALS OVER AGE 5.
Extra adult and children masks are available at the welcome desk if you need one. Masks can be taken off if eating or drinking during ceremonies. Communion will be prepared in a such a way as to allow us to observe this important practice in a safe manner.
2. WE ARE LIMITED TO 50% OF THE BUILDING CAPACITY
As St Andrew's-Wesley has a capacity of 700, we are able to comfortably fit our weekly attendance. We are grateful for a large sanctuary which allows adequate social distancing.
Hand sanitizers and special cleaning procedures, including fogging between services will continue to be in effect.
We are very grateful for your understanding, patience and grace in the midst of all the ongoing changes that affect us all. Let us continue to love one another and serve our city in this challenging season. If you are sick, please stay home and participate in the worship service online.
---
PARKING
Free parkings are available at Nelson Square (808 Nelson St.) on Sunday for FBC congregants and visitors. We will be using a new parking code system (old parking passes are no longer valid). Please read through the FBC Parking Policy 2021-2022 and apply for a parking code to be used on Sunday at the pay station by emailing .
Parking attendants will be present at Nelson Square to provide assistance and to help new visitors who haven't applied for a parking code online. Watch a walkthrough video below to learn about our new parking system.
---
PICK-UP/DROP-OFF ZONE
For visitors with mobility limitations, there is a pick-up/drop-off zone on Henshaw Ln (in between St Andrew's Church and Century Plaza).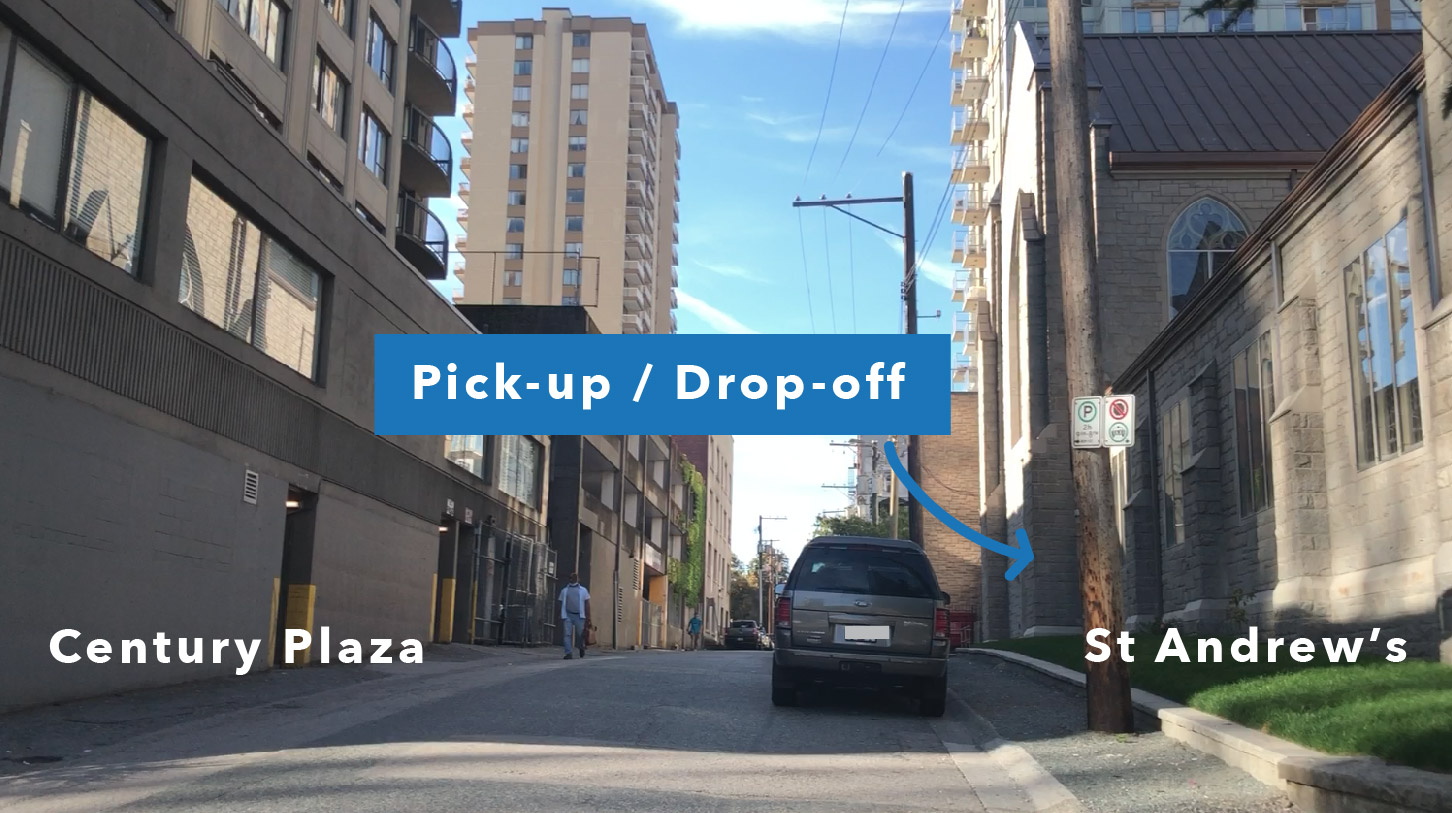 ---
NEWGEN PROGRAMS
New Gen Ministries are coming back! Children, preteens and youth will be gathering on Sundays during the service for a time of connection, fun, learning and story. Children, preteens and youth will stay with their families for the first part of the service and will then be invited to go to a separate space for their programming. Watch a tour and info video below or visit the New Gen page to learn more!
---
weekly updates?
Do you want to be informed of what is happening in the life of our church? Sign up for First News (weekly e-newsletter) here.
more QUESTIONS?
For any further inquiries, please email the church office or call (604) 683-8441.