Retreats and camps
There are a number of ministry specific retreats that are rhythmically organized throughout the year (e.g., Alpha Holy Spirit Weekend, Volunteer Retreats at Rosewoods, Men's Group Retreat at RockRidge Canyon, etc.). In addition, a number of retreats are being planned as part of our discipleship pathway.
---
Partnerships
We partner with Keats Camp and Barnabas Family Ministries to provide growth opportunities for our children, preteens, youth, parents, and families, particularly during the summer season.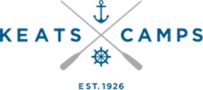 KEATS CAMP
Keats Camps has been serving youth and families for over 90 years as a part of the Canadian Baptists of Western Canada. Thriving during the summer months, Keats comes alive with over a thousand campers & staff and all of their visiting parents & friends. Keats Camp is committed to mentoring our campers and staff and helping them build faith in Christ, as well as the self-confidence and abilities to will help them in all walks and stages of life.
Open to Grade 2 to 12. For more information, please click here.
BARNABAS FAMILY MINISTRIES
Barnabas Family Ministries is dedicated to strengthening, educating and encouraging families through Christian retreats. We encourage families to take part in the Single Parent and Summer Family Retreats. For more information, please click here.