Welcome to First! We are an intergenerational, multicultural community made of people at all stages of their faith journeys--from those exploring the idea of faith, to those who have been followers of Jesus for decades. We are located in the heart of downtown Vancouver.

Questions About Faith?
We invite you to take part in our Alpha Course.
---
WANT TO KNOW MORE ABOUT FIRST?
We invite you to meet us at Starting Point. This is a gathering to introduce you to the church and how you can get more involved in our community. The meeting will last 20-30 minutes and coffee and snacks will be served. Next Starting Point: Sunday, January 19th, 2020. For more information, please contact Rebecca Thornber.
---
SUNDAY @ FIRST
WORSHIP

10:00am

We are committed to worship that glorifies God and that is connected to the historic church. Our services creatively integrate both traditional and contemporary expressions. We use a broad range of musical content and style, to remind us that God is at work right now in the world, but has also been at work for centuries, drawing people to Himself. We respond in worship to God's actions in salvation history and to the revelation of His character through Scripture and seen most clearly in the person of Jesus Christ.

If you need help locating a particular room or area in the building, ask one of our friendly Greeters when you arrive on Sunday morning. They will be happy to help you.
NEW GENERATION
Early Childhood (Infant to K), School Age (Grade 1-4), Preteens (Grade 5-7), Youth (Grade 8-12) 10:00 am; Young Adults 11:30 am
Internationals
Simplified Sermon Study 11:30 am
---
Parking
Sunday Visitor Passes
Free parking is available at Nelson Square (808 Nelson Street). Parking attendants will provide temporary parking permits upon arrival.
Pick-up/Drop-Off Zone
For visitors with mobility limitations, there is a pick-up/drop-off zone on the curb lane of Nelson Street in front of the ramp entrance.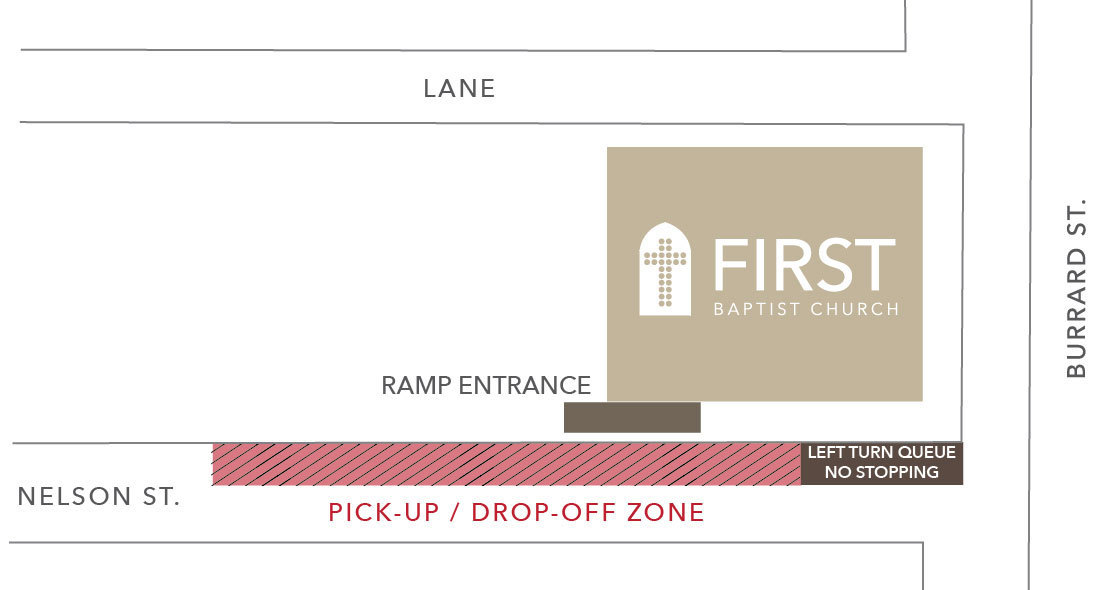 Monday-Saturday Parking Info
• If you are here for a church event, please contact the event organizer or the church office for parking info.
Stroller Parking
• Reserved space for strollers can be found in the Narthex, the entry area inside the main doors of the church
.
---
weekly updates?
Do you want to be informed of what is happening in the life of our church? Sign up for First News (weekly e-newsletter) here.
more QUESTIONS?
For any further inquiries, please email the church office or call (604) 683-8441.