HFTC Update | March 19 , 2021
GOD ALREADY KNOWS WHAT WE NEED


Dear Friends,
Yesterday morning, I started the day with a prayer of thanksgiving as it marked our 134 years as a church. What a milestone! What a reminder of God's faithfulness to us, the West End, and this city!
In 1886, we started at the back of a pub, known as the Blair Saloon, located at the intersection of Abbott and Water. Leading up to the construction of our very first church building—a humble 24' x 35' frame building—on 432 Main Street, by 1887, we had already moved twice due to a citywide fire. There was a point in time when we worshipped out in the open as we were without a building. Talk about displacement!
In 1911, after a number of building projects and displacements, God planted us at the very heart of the city, at the intersection of Nelson and Burrard. And now, almost 110 years later, we are reminded again of God's intentionality in physically placing us here. Where we are situated is not a byproduct of chance. Where we are situated is integral to the raison d'être—the God-given purpose—of our church. He planted us here to reflect the Good News of Jesus Christ.
As we head towards another displacement, we must remember God's faithfulness and intentionality. In the face of uncertainty and numerous changes, we must remember, as so aptly put by Rebecca Thornber at our Winter Church Meeting, that God already knows what we need. Our Good Shepherd is leading us. Let us follow.
With joy,
Justin Kim
Executive Minister
---
OFFICE SPACE
Starting April 6th, our staff team will be working from our new office at 1500 West Georgia Street. It's the triangular BOSA Commercial building where Pender, West Georgia, and Nicola converge. Our new office space is operated by Regus, a company that provides the flexibility that our staff need to work from the central downtown location and other locations throughout the city.
For all mail correspondence, please send them to the following address starting from April 1st.
The First Baptist Church of Vancouver
1500 West Georgia Street
Suite 1300
Vancouver, BC V6G 2Z6
Our office and fax phone numbers will remain the same. Just as a reminder, they are as follows.
Phone: 604-683-8441
Fax: 604-683-8410
---
MINISTRY SPACE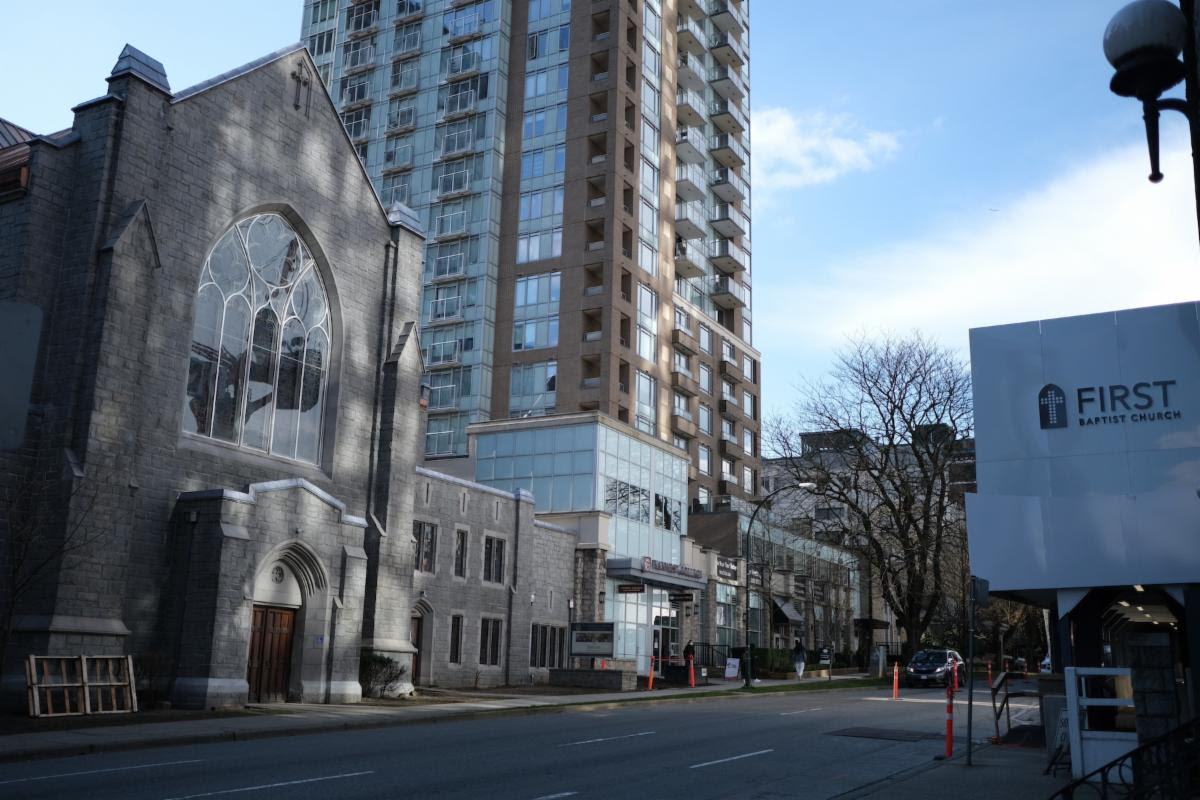 We were able to secure St. Andrew's-Wesley as our main ministry space for 25 months. Once St. Andrew's-Wesley is back in their newly renovated building (which is currently set to take place in a month or two), their staff trained and ready to manage their building, and the COVID restrictions are lifted, we will be able to use their space on Sunday afternoons. Additionally, St. Andrew's-Wesley has expressed openness to sharing their space on the weekdays.
As you are aware, St. Andrew's-Wesley is right across us. Due to the proximity, we will be able to retain our parking arrangement at Nelson Square and visibly see the progress of our construction as we make our way to church on a weekly basis.
This might be new to you, but when our church building was destroyed by the downtown district fire in 1931, St. Andrew's-Wesley was one of the three local churches that offered their space to us. We are grateful for their continued generosity and hospitality.
We were also able to secure a temporary recording site for our First Worship as we will need to vacate our church building by the end of April and won't have access to the St. Andrew's-Wesley building right away. Coastal Church has graciously offered their Commercial Campus to us. We are thankful to Pastor Dave and Cheryl Koop and their team, particularly Brad Bergman, for making this possible. Additionally, I must note that Westside Church has expressed openness to support us along the way.
---
THANK YOU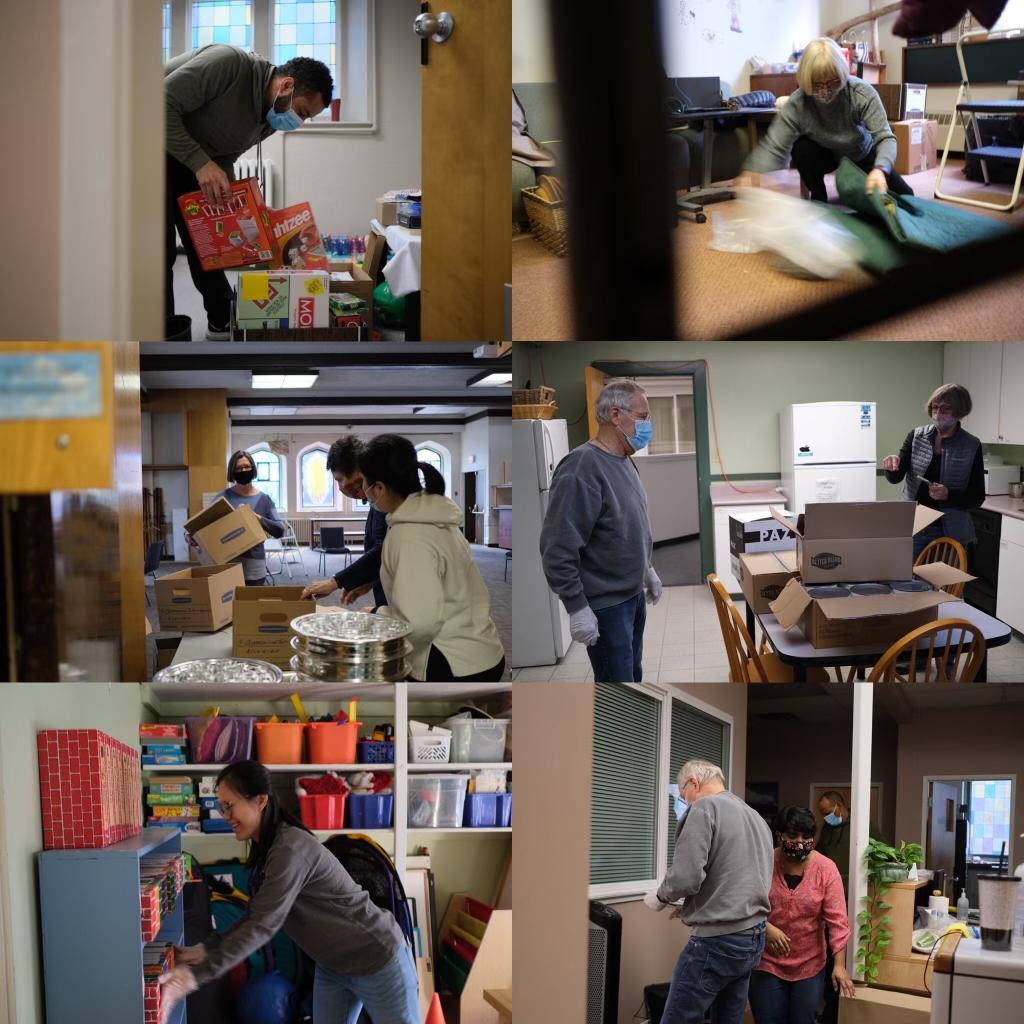 We are making good progress with our packing! This is mostly due to the diligence of our wonderful volunteers and staff. We are grateful for them.
I must recognize our volunteers by name. Marjorie Cox, Carmen Mok, Benjamin Yu, Ligia Martinez, Alice Owen, Hildie Ritchter, Jennifer Cote, Cathie McGuire, Richard and Linda DeBoer, Tim Cunningham, Steve Milos, and Anna Kim.
Furthermore, while it is a team effort, several staff members are going above and beyond. They are Soniya Mathew, Angeline Teay, Shufen Ong, and Ayele Mekonen. Often, their contributions go unnoticed. Please be sure to let them know that they are appreciated.
Last but not least, when it comes to the items that won't be going into storage, it is good to see that organizations like HomeStart, Lookout, refugee families, and individuals who are in need will benefit from our donations.
We have much to be grateful for. God already knows what we need. Thanks be to God!