HFTC PROJECT OVERVIEW
First Baptist Church has significant historic and architectural value in the city, being one of the oldest buildings in downtown Vancouver. Our existing church building, however, is at risk in the event of an earthquake. The Heart for the City Project will restore and seismically upgrade the historic church building, in which we will be able to carry out our mission for generations to come.
The proposed development will expand the community services the Church provides with approximately 45,000 square feet of additional purpose-built space and a new affordable rental building of approximately 50,000 square feet. The Church's heritage restoration, the expansion of our space for various ministries, and the addition of a new affordable rental building will be constructed by Westbank. As part of our agreement, Westbank will also be constructing a market residential tower known as the Butterfly.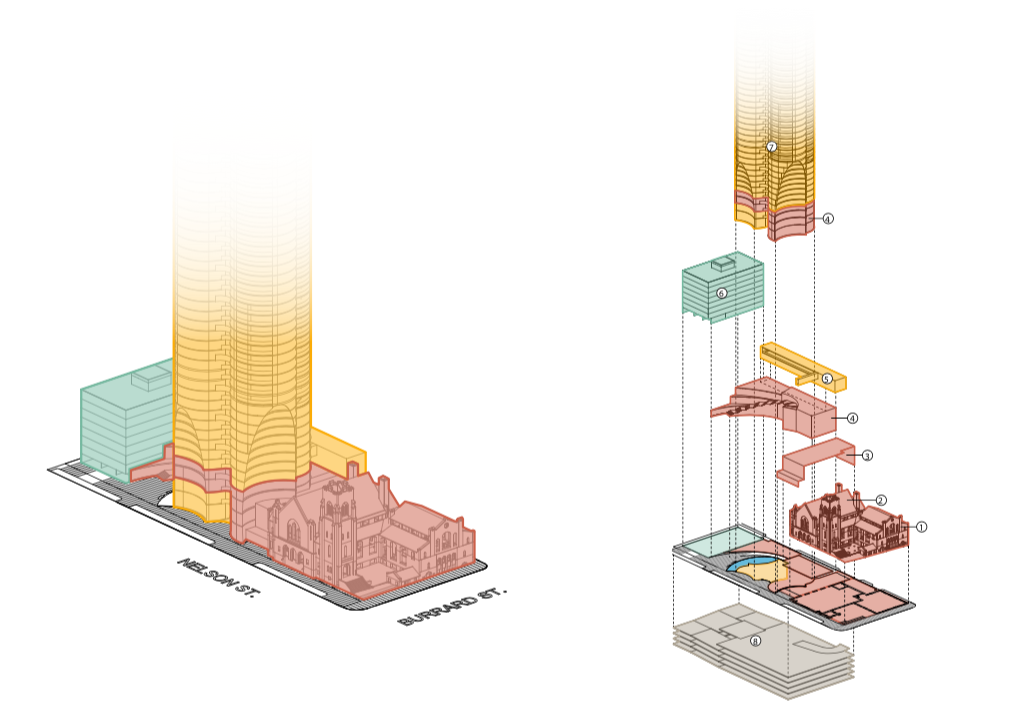 ---
WHY DOES THIS PROJECT MATTER?
The HFTC Project will ensure the longevity of a historic church and congregation that actively serves the community. It contributes to the City of Vancouver by delivering heritage conversation and innovative architecture, environmental and social sustainability (alignment with the West End Community Plan), and public spaces.
---
WHAT DOES THE PROJECT TIMELINE LOOK LIKE?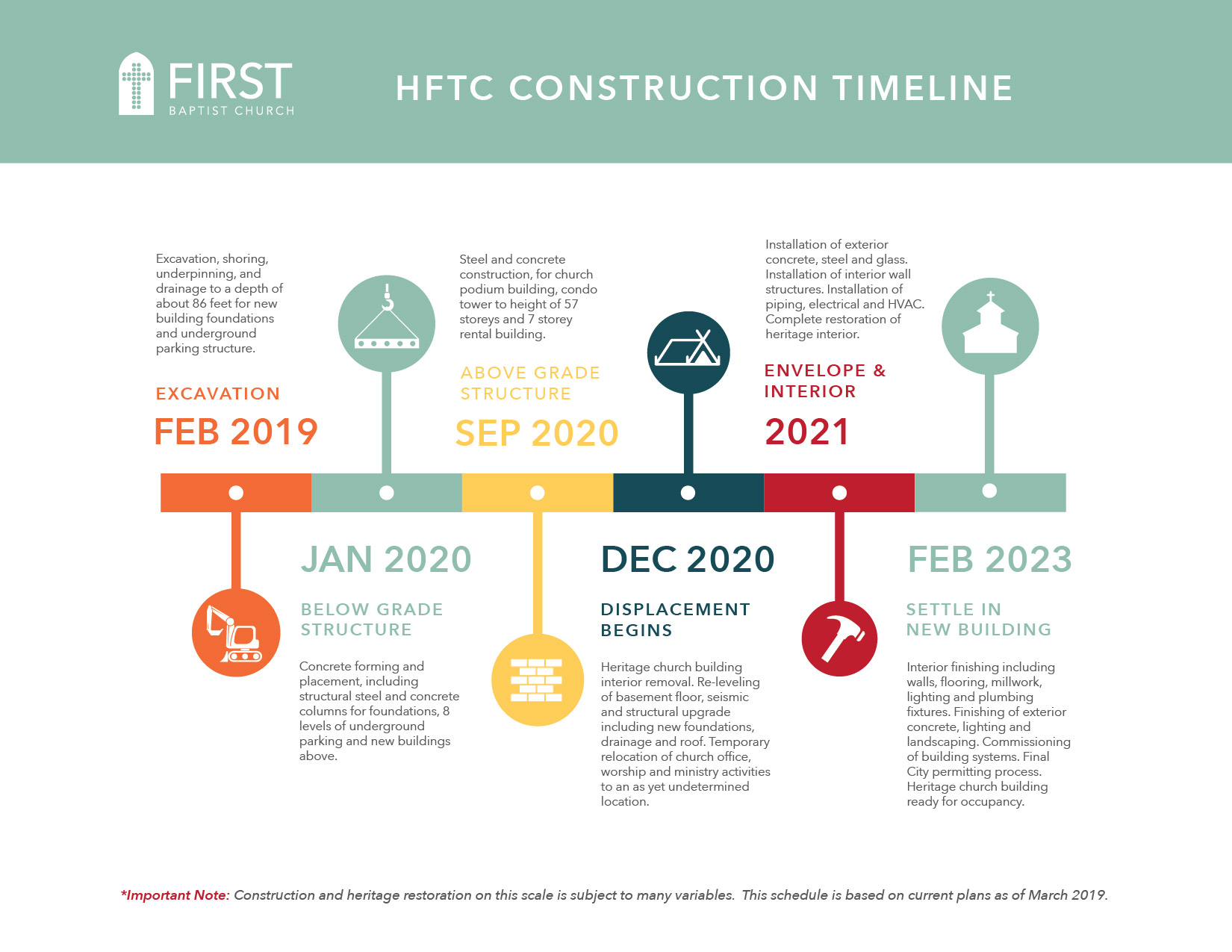 ---
Overarching Architectural Themes
We are an important public institution in the life of Vancouver since 1887, iconic in both how we appear and in what we do. We are an urban church in a city with a unique and animated urban core, arising from the longstanding vision and policies of our city's leaders. Integrated in all parts of this project (distinctive, inspiring and iconic in the architectural design, in the facilities built and in what we actually do in the space) are these themes:
God is Good!
With all that is going on in the world and in the lives of people in our city, we seek to show that God is good in terms of what we build and what we do with what we build.
We are Alive!
We want our buildings to convey this sense of "being alive", raising the question, "What's going on here?" and the thought, "These people are into something vital and contagious."
You are Welcome!
The good God loves the world and the city. God loves the church so the church can love the city. We want our buildings to say, "You, too, can get in on the love of the good God," and "Come just as you are." We want our buildings to radiate the hospitality of Jesus!
Our focus and impact reach beyond our physical walls and location at Burrard and Nelson. FBC strives to be a beacon, a lighthouse, a social sanctuary in Vancouver. Our community is our neighbourhood, the city, the lower mainland, and beyond with our connections and relationships throughout North America and around the world.
A church which is designed and functions as a welcoming institution is essential to the well-being of many citizens and therefore the health of the church. We are relational beings, needing to connect, to find community. That feeling alone has become a major issue and is reflected by the 2012 survey on "Connections and Engagement" by the Vancouver Foundation. We intend to be a light in the community to help resolve this issue in our community.
---
THEOLOGICAL FRAMEWORK FOR THE PROJECT
We believe that there is a Creator, a living Creator, who is present everywhere in His creation. The wonderfully good, good news is that this Creator, or God, has actually come to earth, and done so as one of us, as Jesus of Nazareth. He came because we needed help—total help for total need. Jesus has come to free us from all that keeps us from being fully human like He is. He does this, not because we have somehow earned such love but, simply because He loves us. He calls us to Himself one at a time, but in the process calls us into His new community, His church. He imparts to each of us something of His creativity, enabling us to do as He does with our own particular gifts. The church grows as each of us lives out His creativity both within the church and in the city.
This means that "the church" is not a building but rather a gathering of people who follow Jesus Christ. The church building and facilities are one of the resources given to us by God (mindful that we are stewards of His resources) to be used in the furtherance of His work, which is what each of us strives to do as individuals.