What is Christian Discipleship and How Does It Happen?
Discipleship may be described as a lifelong movement towards Jesus. It involves both growing to know Jesus more, and being transformed into his likeness.
In the gospels, Jesus often uses agricultural imagery to describe the growth of the kingdom of God: we read parables of the seed being scattered, taking root and growing to bear fruit. The growth of the kingdom is the work of God in our lives, and yet God's work also calls for a response--it calls for our participation.
So then, how do we participate in this growth?
Like Jesus' first followers, we learn and grow not only through what we hear but also through the rhythms of our lives and by spending time with Jesus and with other Christians. All of this is done in partnership with the Holy Spirit.
This movement and transformation do not happen overnight! It is a process of growth. Using Jesus' agricultural language, we might describe the growth of an individual disciple in this way:
Plant: The initial seed of the gospel is planted in our lives and we accept it. We develop an understanding of our new identity in Christ.
Root: This is the image of being rooted in Christ. We grow in our knowledge of God's love for us. Issues of Lordship are worked out as we ask ourselves if we are willing to place all areas of our lives under Christ's rule.
Grow: We continue to mature as disciples of Jesus. We establish rhythms and patterns in our lives that foster growth: rhythms of worship, confession, Scripture study, prayer, sabbath, etc.
Fruit: Being disciples of Jesus means that we live as citizens of God's Kingdom in our world. It involves telling others about the good news of the kingdom, loving our neighbours as ourselves, seeking justice and showing mercy. It means living as salt and light in the city of Vancouver.
The Discipleship Pathway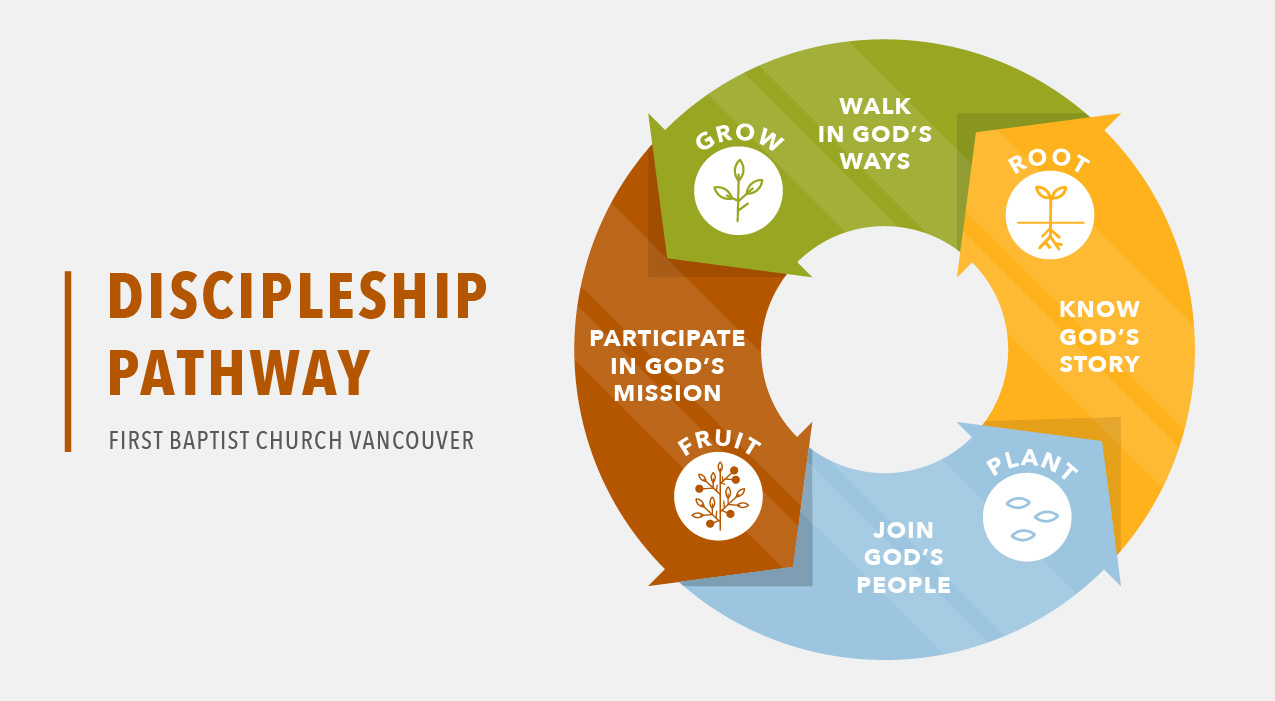 Recognizing that as a community we are to support each other in this growth process, FBC has created this Discipleship Pathway as a framework to explain how we seek to foster discipleship at FBC and how you can participate. The headings - Join God's People, Know God's Story, Walk in God's Ways, and Participate in God's mission - describe how at FBC we seek to support our planting, rooting, growing and bearing fruit in Christ. Over the next year, we will be highlighting each of these stages in more depth, and you will notice that these icons will begin to be used to categorize activities and programs at FBC. Let's unpack each stage a bit:
1) Join God's People This corresponds to the Plant stage of growth.
We cannot grow as disciples of Jesus in isolation, but only in the context of the church family, alongside others who will encourage us.
Some ways to join our community: Join a Connection Group, attend Starting Point, join the Baptism and Membership Classes, Internationals, Youth Group and Preteens, etc.
2) Know God's Story (and Know Our Story)
This corresponds to the Root stage of growth.

Know God's Story: It is important to understand the larger narrative of Scripture, what the message of the gospel is and what this means for us today. Who is Jesus and why does he matter? How can we know him? How does God call us to live?
Know Our Story: Along with this, it is important to know ourselves. Where are the places in our past that need healing? Where do we need to forgive others? Where have we seen God in our stories? What do we discern God calling us to individually and corporately?
Places at FBC to learn and grow in these ways: Sunday Sermon and Connection Group studies, Foundations Classes for new believers (coming soon), Growth Classes, Alpha, etc.
3) Walk in God's Ways This corresponds to the Grow stage of growth. We are all are shaped by our life rhythms. Spiritual Practices are rhythms that the people of God have found helpful throughout the history of the church. These include both corporate practices as well as individual practices. Spiritual Practices are not rules that we need to follow in order to be Christians. Instead, like the training practices that we might put in place when preparing to run a marathon, these are wise habits that will help to sustain us in our relationship with Jesus and to equip us for continued growth as disciples throughout our lives.
Corporate practices include: Sunday worship, Confession, Studying Scripture together, Serving together
Individual practices include: Scripture study, Personal times of prayer, Solitude, Simplicity, Sabbath
Places that these will happen within our community: Sunday morning services, Connection Groups, Growth Classes, etc.
4) Participate in God's MissionThis corresponds to the Fruit stage of growth. Participating in God's mission means being part of his ongoing work in our world and partnering with the mysterious growth of the Kingdom that God is already bringing about. It means telling others about Jesus, loving our neighbours as ourselves and caring for those in need.
Some ways that we are seeking to do this as a community at FBC: Shelter Ministry, Care Friends, Serving with your Connection Group, Alpha, Youth Missions trips, etc. Eugene Peterson in his book A Long Obedience in the Same Direction describes growth as a disciple as an apprenticeship. He writes that we "...are people who spend our lives apprenticed to our master, Jesus Christ. We are in a growing-learning relationship, always. A disciple is a learner, but not in the academic setting of a schoolroom, rather at the worksite of a craftsman. We do not acquire information about God but skills in faith."It is our prayer that as you apprentice with Jesus--participating with God's people, in His story, by His rhythms, for His mission--you would plant, root, grow and fruit--so that you might participate in His kingdom and its good news!
Warmly,
Rebecca Thornber
Minister of Discipleship & Community