First News | September 23, 2020
WEEKLY REFLECTION
COMMUNITY STORIES
Almira & Ben Chow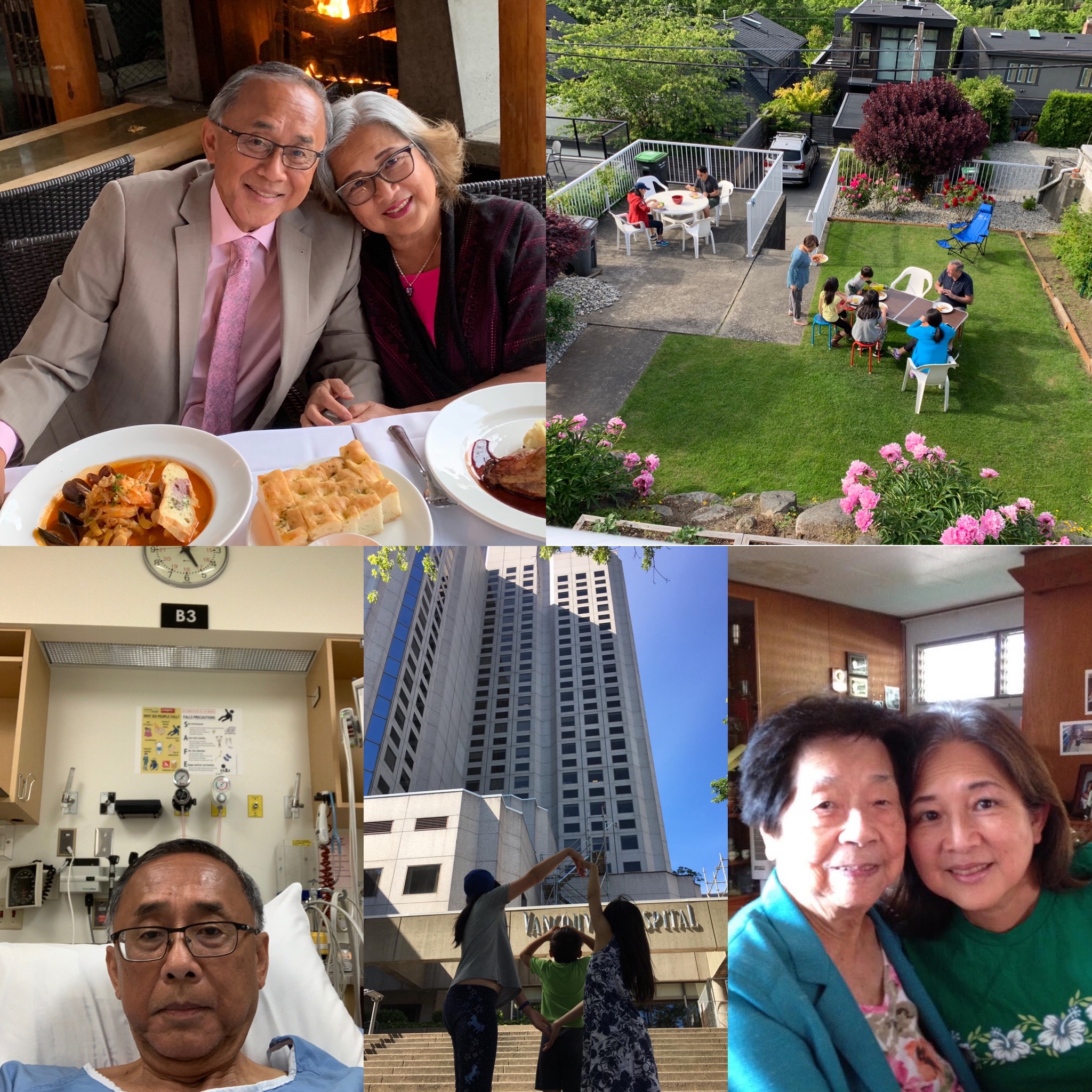 At the beginning of Covid from March through May we baked and cooked more than we have ever done before and cleaned out many areas of our home. In June, Ben had major surgery. During his recovery, our community of believers became God's steadfast encouragement and strength for us. Psalm 23 was our focus for rest and comfort. Then we really enjoyed spending time with our "bubble" children and grandchildren. We social distanced with our neighbours and friends on our balcony enjoying good conversations along with coffee or picnics with our bible study group and Cambie area group. What a new perspective on social gatherings! In September Almira's mom died at 101 years old in Hawaii. We couldn't say aloha in person, but we joyfully celebrated her long life "zooming virtually" with family. In honour of mom our family from California, Colorado, Arkansas, Vancouver and Hawaii ate her favourite food "ice cream". Then we celebrated our 47th wedding anniversary giving us an opportunity to dress up and dine at a restaurant for the first time since Covid. What a God glorifying time!
---
John Tsang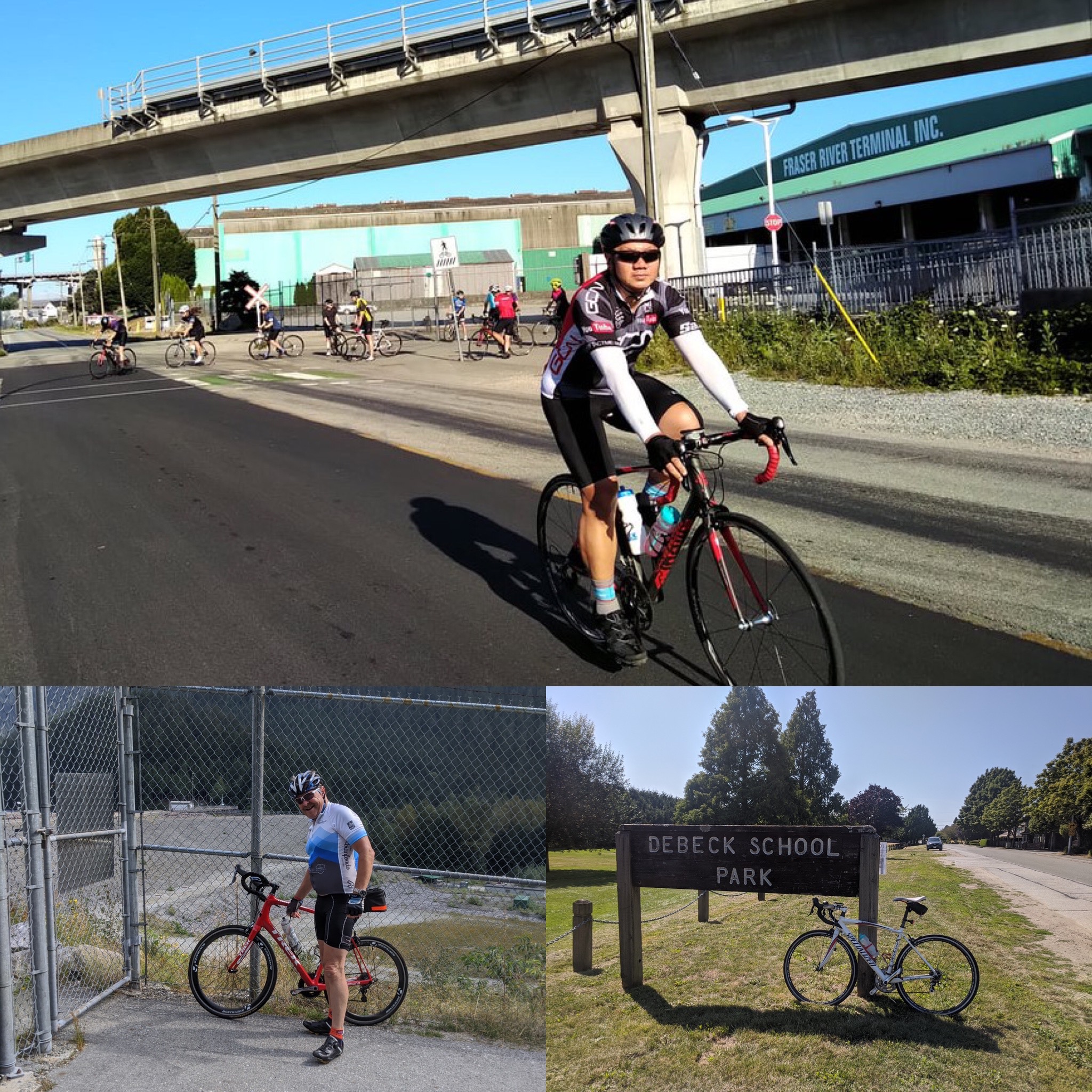 During the pandemic, one of the safer activities was cycling and this summer I ended up riding a lot! In July, I completed a 160 kms event. Noah committed to 1000 kms for the month of August in an effort to fundraise for kids with cancer. I accompanied him on many of the rides and we both reached that milestone. For me, cycling is a great relational activity and when I ride alone, I've often used the time to think, reflect, and pray.
Soniya, Asish & Rohan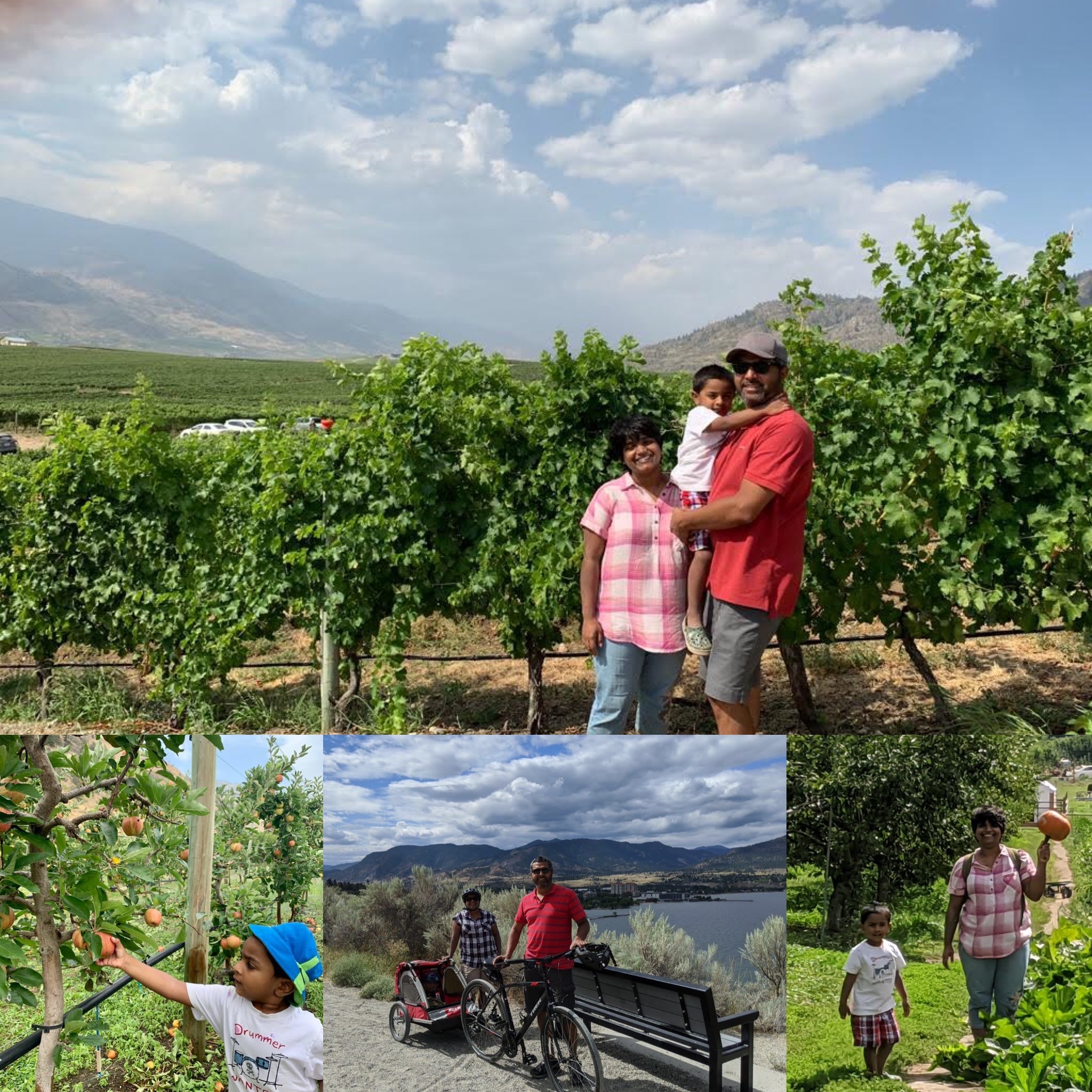 Summer trip to Oliver, BC's wine capital
Clocking beach time, walking the Osoyoos Lake Oxbows and Wetland trail, biking the scenic Kettle Valley Railway Trail, picking fruits and vegetables and checking out the animals at orchards and farms and wine tasting at the abundant and scenic wineries were some of the enjoyable things we enjoyed doing at Oliver, BC.
---
The Powells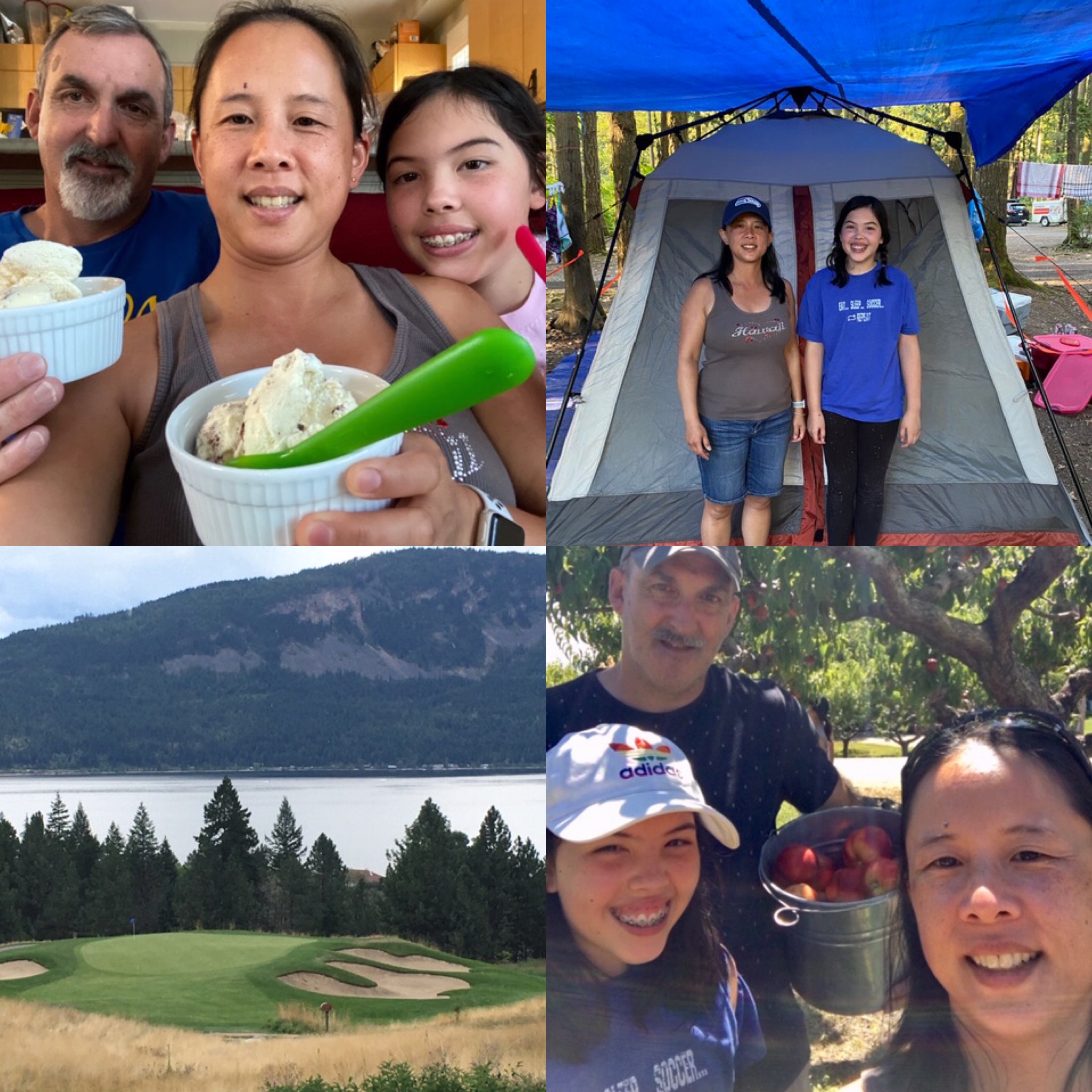 This past summer our family took advantage of opportunities to relax at home and enjoy summer with family and friends as well as travelling to some of BC's nicest locations for quick weekends away. Our summers always include a variety of local and home activities like going to the beach and planting our garden boxes. This year, we enjoyed more time with neighbours and family and built relationships with those we already counted as friends. We made a short trip to Osoyoos where we enjoyed orchards and winery tours as well as the beautiful scenery. We also spent a weekend near Kamloops golfing with family. Our summer was capped off with an annual camping trip to Cultus Lake with three other neighbour families. The theme of our summer was "staying grounded in God's goodness, enjoying what BC has to offer and strengthening relationships."
---
Edna Grenz & Harry Hiller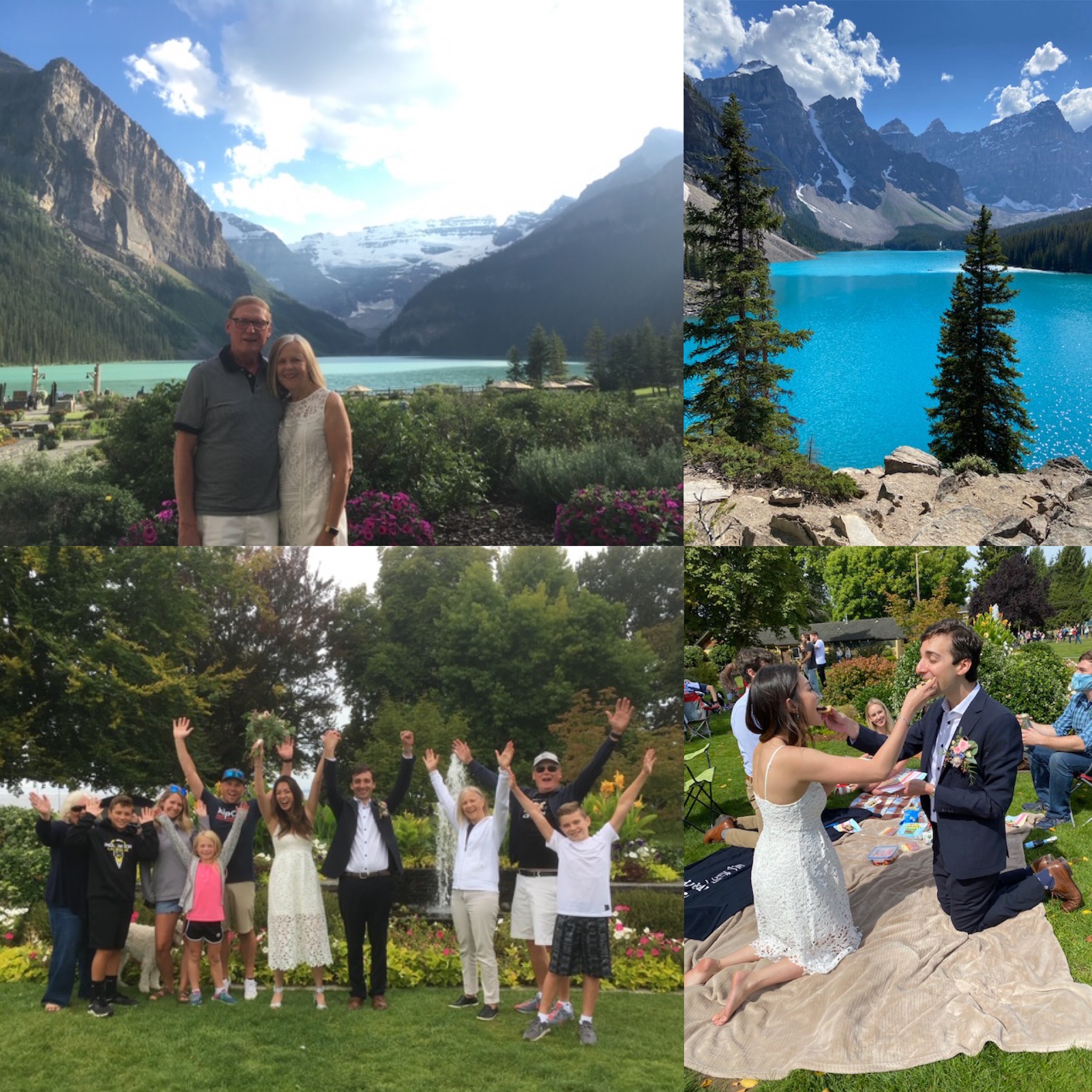 During the Covid lockdown earlier this year, we stayed close to home like everyone else. But when things started to open up a bit this summer, we decided to explore the Canadian Rockies. We were surprised to learn that because of CoVid and the lack of international tourists, the Chateau Lake Louise was available at greatly reduced prices. The weather was perfect and we came to a new appreciation of God's handiwork in creation as we celebrated our wedding anniversary there and at Moraine Lake.
We were grateful to be able to see 9 of our 11 grandchildren over the course of these months. The most unusual adventure was visiting with our Seattle family at the US side of Peace Arch Park, unique, in that Canadians can meet US residents there without passing through border security. Little did I know that when I baked a blueberry Kuchen (cake) for our family that morning, that it would also become the wedding cake for two medical doctors - one from Ontario and one from Connecticut, whose brief wedding ceremony we watched from our spot in the park. Before we left the park, we became their "wedding guests" who cheered them on.
We thank God for these gifts that we have been able to experience in spite of the uncertainty of the world around us.
---
The Klassens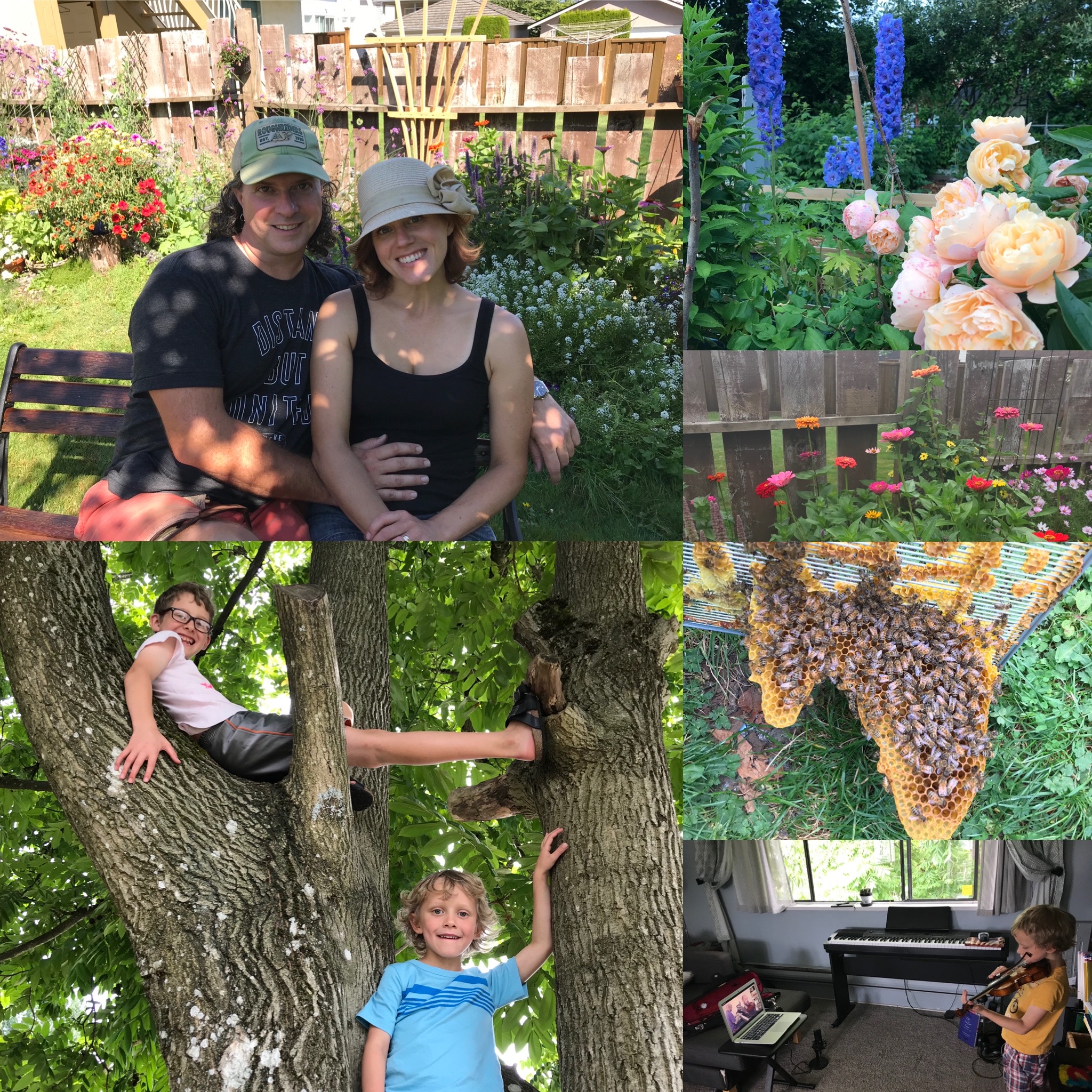 We have certainly enjoyed our family time during the past 6 months - eating supper together every single night has been a glorious gift. We thank the Lord every day for our outdoor space. Our home is tiny but the backyard is enormous and affords us room for a trampoline, a treehouse, a veg garden and thousands of flowers. We share the house and yard with our wonderful neighbours who are like family. Between us there are FIVE boys! There is no end to tree-climbing, tire-swinging, hide-and-seek, mud-puddles, scavenger hunts and obstacle courses. We also share the garden with a family of chickadees, an adorable pair of hummingbirds, thousands of native bees and an added hive of honey bees -- a source of endless fascination and of a considerable amount of honey!
We are so grateful for our many blessings and for the technology that has allowed us to keep working, teaching and studying.
---
Community story sharing: If you have a story to share (a memorable event, a newfound hobby, a family recipe etc), please let Angeline know by email!
---
FBC ANNUAL GENERAL MEETING 2020
As Justin puts it, this is our first ever online AGM in FBC's 134 years of history! Most of us might feel a little anxious about this new experience but it is also exciting to 'gather' virtually with all of our church family again after so long! We have put together a simple 'How-to' post to help guide and prepare you for the meeting next week! Please click the link below to read.
FBC Annual General Meeting Invitation
Wednesday, September 30 | 7pm | Zoom
You are warmly invited and encouraged to sit at your computer, laptop, tablet, or phone (NO Driving Required!) and JOIN us! It will be the next best thing to actually seeing your FBC family!
It's an AGM…. so, yes we need a quorum to do the required business! Everyone is invited to come and participate, but only members will be able to vote.
Please RSVP here and the meeting link will be included in your confirmation email.
We will have time to pray and reflect on God's goodness to us, as well as consider special resolutions concerning our Bylaws (read the special resolutions and briefing note here), hear from the Treasurer regarding the 2019 financial statements, consider the report from the Nominating Committee, including the new slate of candidates and "see" how church in a pandemic thrives in God's grace to us.
Please review the 2019 Annual Report, comprised of the 2019 In Review (from the Winter Business Meeting) and the Financial Statements here. You will also find the nominations for the Nominating Committee and Membership Committee including the candidate bios here.
Questions? Because we are on Zoom, asking and answering questions from the "floor" is more difficult. Please send your questions regarding any of the documents provided to this email address, by September 29, so that we can address them.
Looking forward to seeing you!
Bless you all!
Claudia Wakeman
Moderator