First News | December 23, 2020
WEEKLY REFLECTION
---
A CHRISTMAS MESSAGE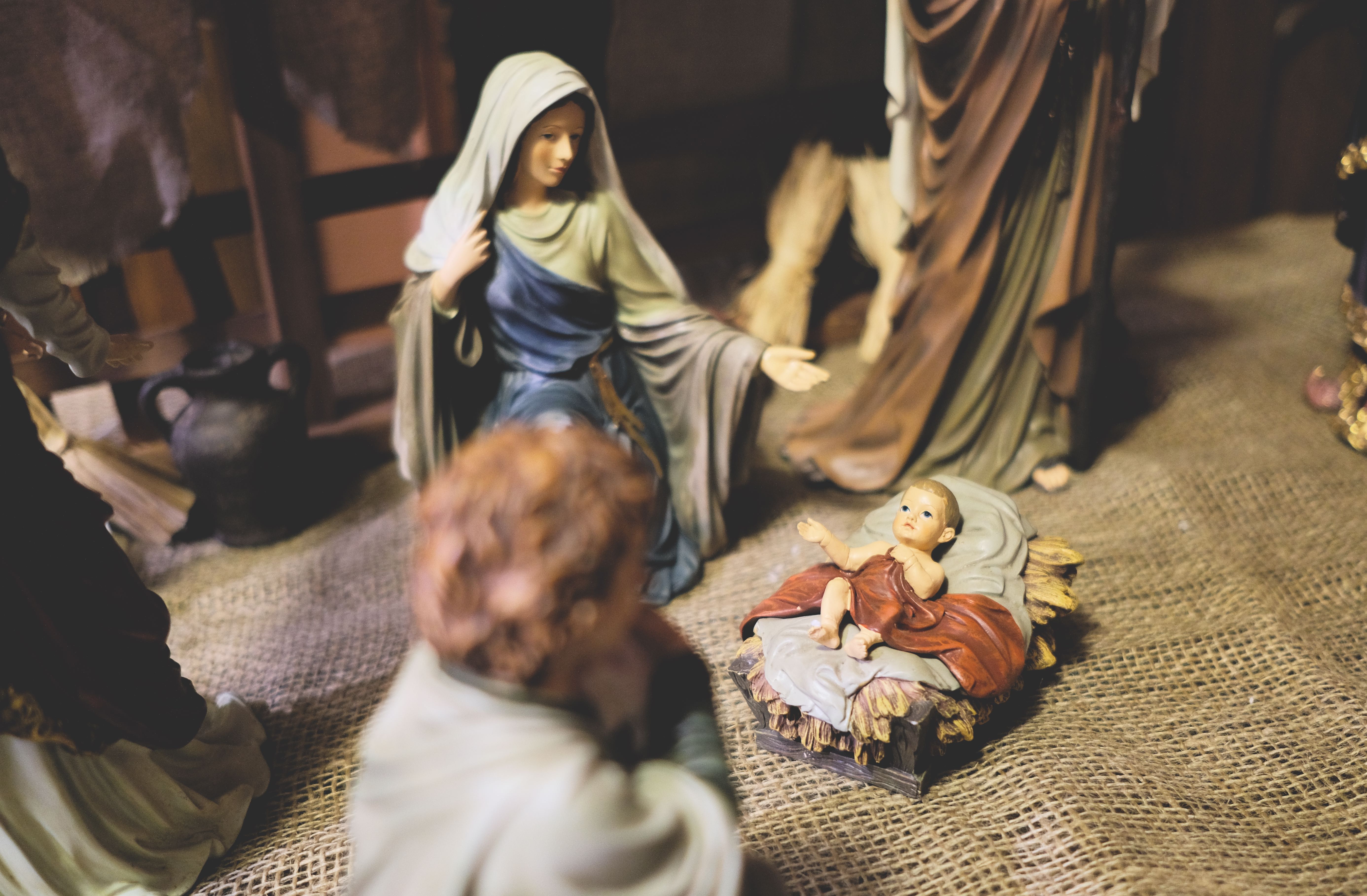 In those days Caesar Augustus issued a decree
that a census should be taken of the entire Roman world.
Luke 2:1
The Roman census called just before Jesus' birth was an ominous event. Censuses were taken for one of only two purposes: either Caesar Augustus was going to raise soldiers for his armies, or he was going to raise taxes. Along with men from all over Palestine, Joseph was forced to return to his family's town of origin, the town of Bethlehem, to register under the weight of these oppressive circumstances. Fear loomed over the entire Roman world, with no one exempt and everyone anxious about what was coming next.
Joseph had the further anxiety of family problems. Mary had been away staying with Elizabeth, but her return, several months pregnant, had provoked all sorts of misunderstandings, accusations and threats. Nevertheless, in faith, Joseph had taken her into his home. While it was not strictly necessary for Mary to accompany him, perhaps it was a relief for the couple to leave Nazareth and go together to Bethlehem; even worth travelling in Mary's condition.
Once in Bethlehem, they were unable to find space in their relatives' home. So, despite Mary's condition, they were only offered space among the animals. No close family or friends were there to help with the birth. And yet, despite having no home and no work, the thought of returning to Nazareth must have been so bleak that they chose not to do so after Jesus' birth.
_______
When we look at nativity scenes and pictures on Christmas cards it's all too easy to forget the true hardships faced by Mary and Joseph at the time of Jesus' birth. The cozy scene we picture was, in reality, fraught with anxiety.
This Christmas, as we celebrate in smaller ways, with a different worldwide threat looming over us, I wonder whether we might take the opportunity to think about this scene again, and to recognize a little more deeply the faith that Mary and Joseph exercised in the midst of fear, and the sacrifices they were willing to make in order to be obedient to God on that first Christmas?
My prayer is that you will be able to put aside the sorrows and fears that so many will experience this unusual Christmas season and remember instead that however small and fragile and misunderstood the love of God may appear to be, the coming of Jesus will prove to be the ultimate antidote to all of the world's ills.
Merry Christmas,
Anthony
---
CHRISTMAS EVE READINGS & CAROLS
Join us on Christmas Eve as we celebrate the birth of Christ with a beautiful readings and carols online service which follows the form of the traditional Festival of Nine Lessons and Carols held in King's College Chapel since 1918. The Christmas message is given in Bible readings, carols and pieces sung by soloist and a quartet.
The video will be sent out via First News at 9am on Christmas Eve. Click below to watch a trailer:
---
CHRISTMAS COMMUNITY PROJECTS
Christmas Love for our Elders and Seniors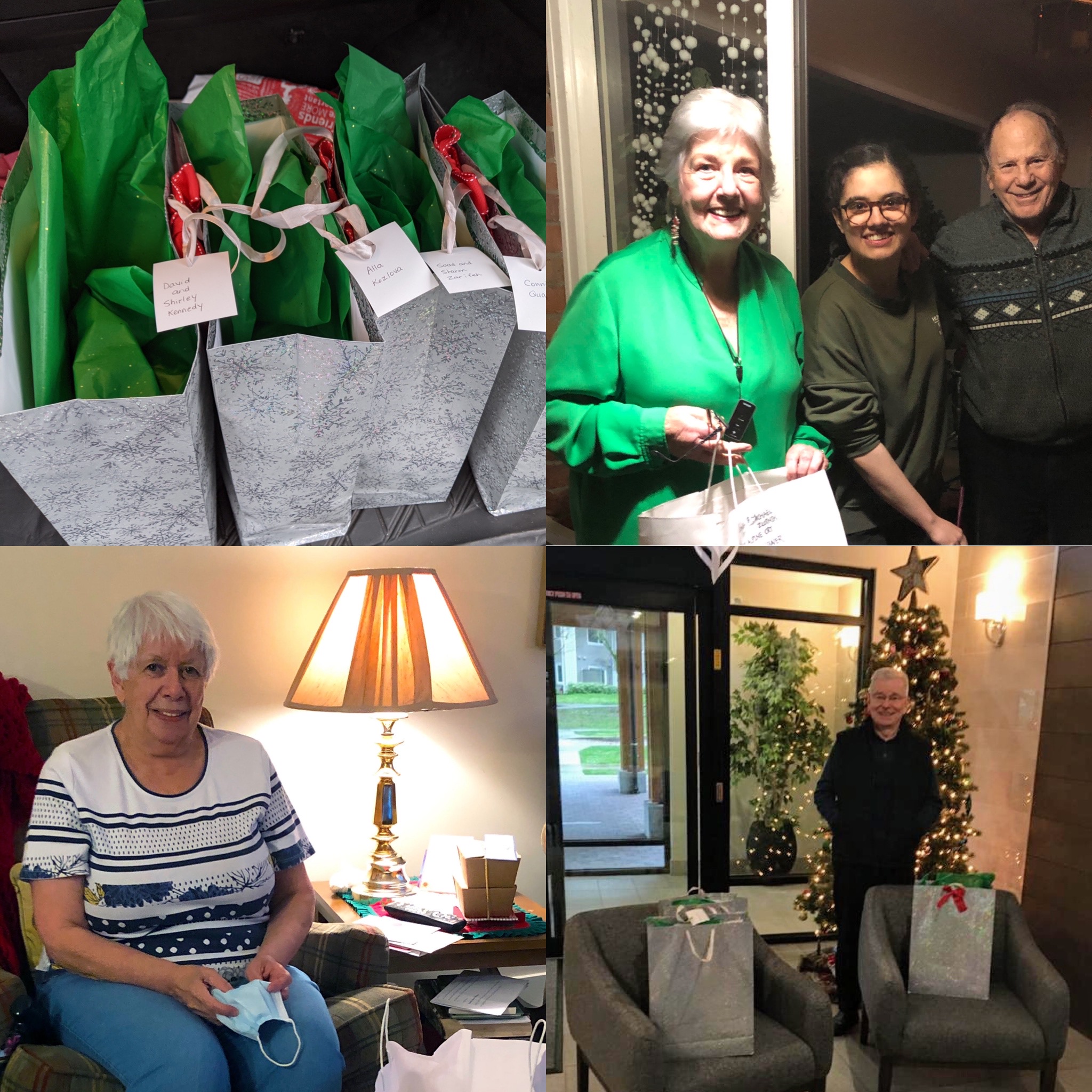 A society is measured by how it cares for its elderly citizens. (World Health Organization)
On Sun Dec 13th, a number of us were enjoying an afternoon of games and carols on zoom but on that same afternoon, a group of hard working elves were cooking, baking, packing and delivering a hot meal and/or package to over 25 seniors from FBC all over town. It has been a hard year for everyone but perhaps even more so for our elders and seniors who live alone or must isolate to protect themselves. Susan Ritchie coordinated a team of over 20 volunteers to make sure our seniors weren't forgotten during this time of year! Everyone received cards, chocolates, baked goods, and for those who wanted one - a five star homemade hot turkey meal! As well, in our different area pastorates, Connection Group members put together packages for seniors in their respective neighbourhoods. Some areas played the classic game of Secret Santa (or Secret St. Nicholas) as individuals dropped off cards and a little something for seniors in their neighbourhood. Great big thank you to our army of volunteers. May we be known as a church that cares for and loves our elders and seniors!
-John Tsang
---
Heads, Hands & Feet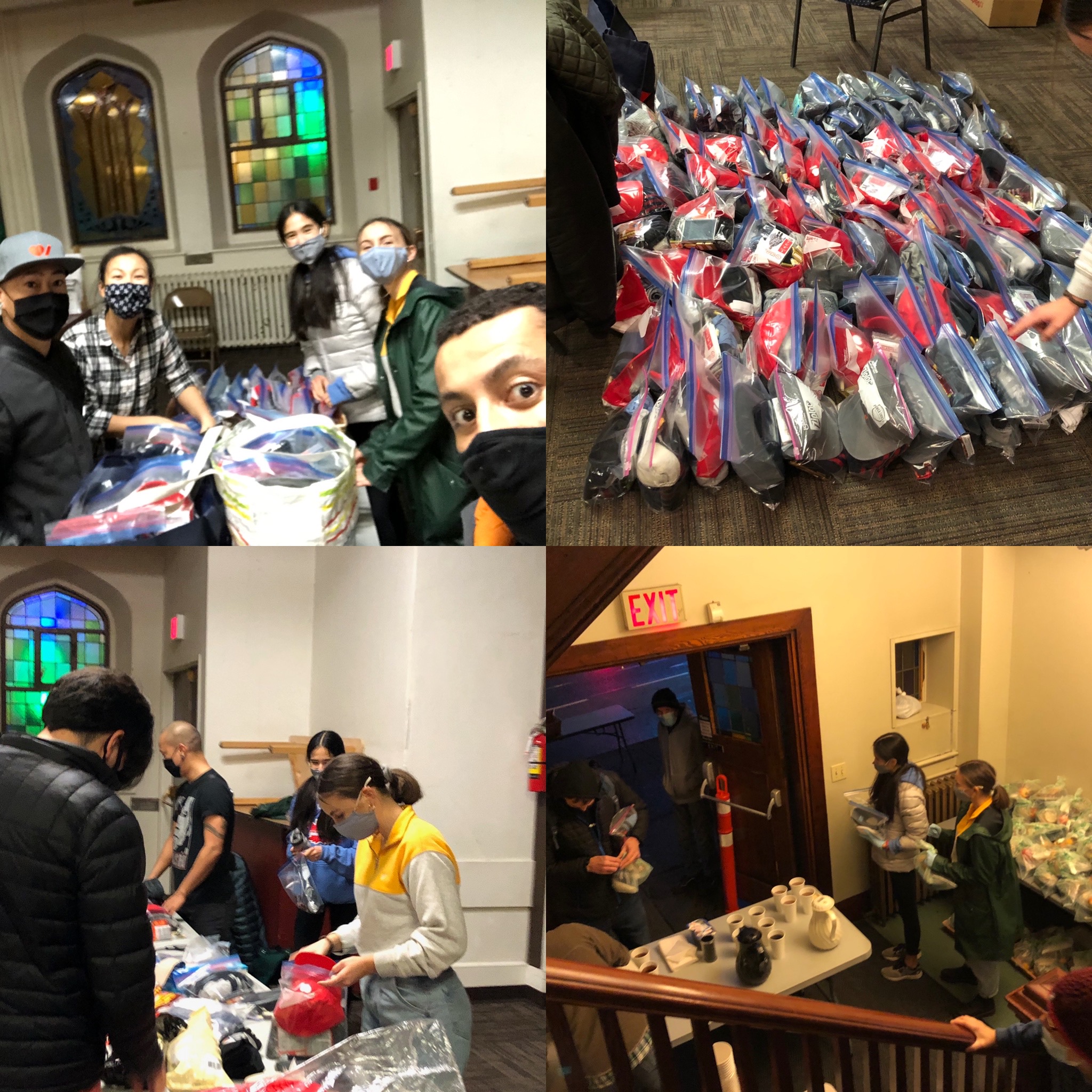 For the past few years, our preteens and youth have joined together to help assemble kits that were given to our shelter ministry guests. This year due to the pandemic we decided to make Heads, Hands & Feet a church-wide project. Together we were able to assemble 114 kits, and last Tuesday, Dec 8 a small group of us also helped to serve the meal at Shelter and hand out these kits! Since we made so many, Shelter will be able to distribute them throughout the month of December. It was a blessing to see so many people participate this year. Thank you all for your generosity and care!
Merry Christmas,
Danny
---
Chocolate Snowman for NewGen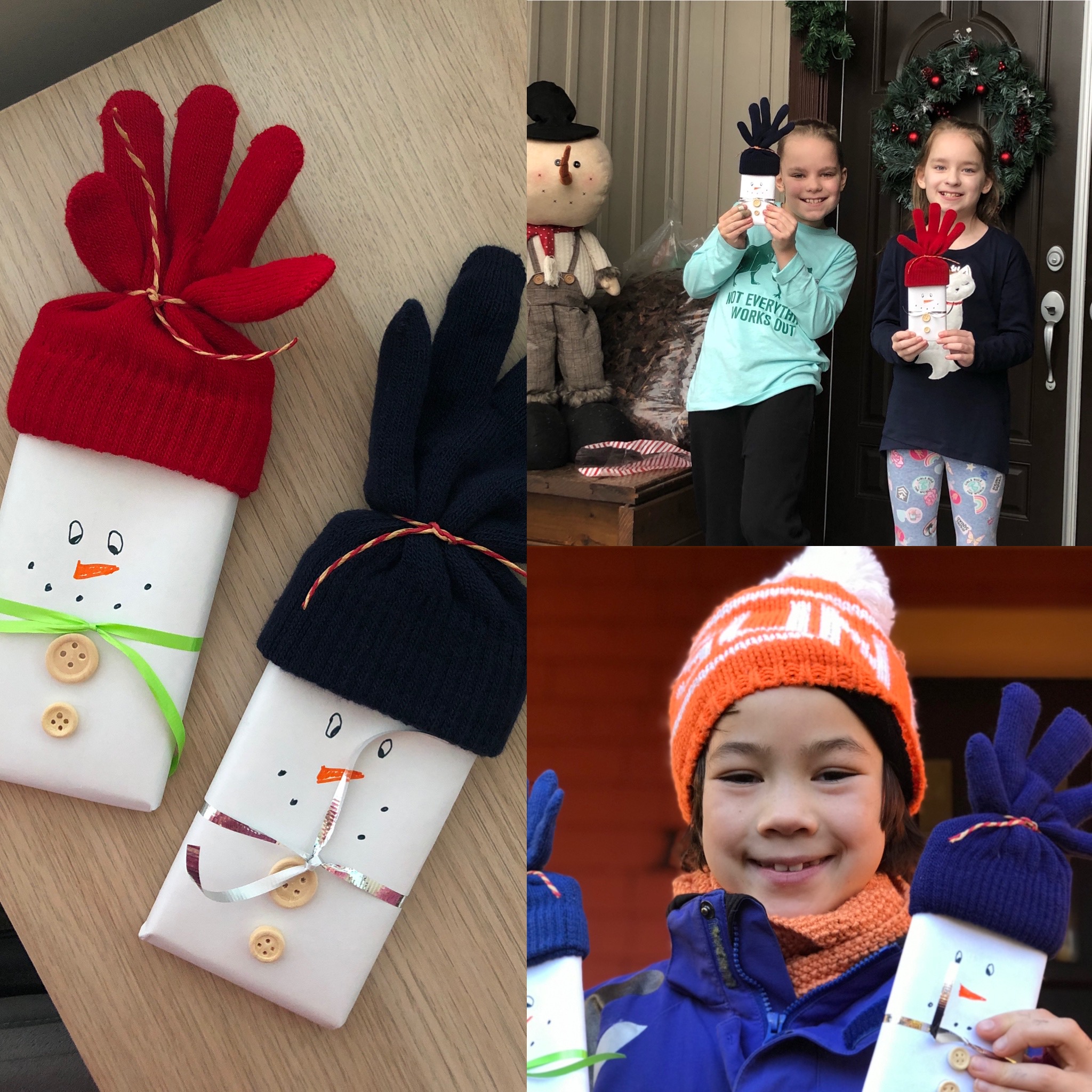 Some of you may know that chocolate is my favourite snack! Chocolate Snowman? Favourite Level 100! This Christmas season, a team of Christmas elves hand-delivered around 70 Chocolate Snowmen to our FBC children! It's a strange Christmas season with everyone being apart, but we hope that these small little gifts will remind our children and families that you all are in our prayers and we love you all very much. Seeing the big smiles and excitement on our children's faces is the greatest reward! Big thanks for Maureen Jones for making the gifts and our team of volunteers who delivered them to the families.
Merry Christmas!
Jojo (Joseph)
---
NEW YEAR ZOOM PRAYER MEETING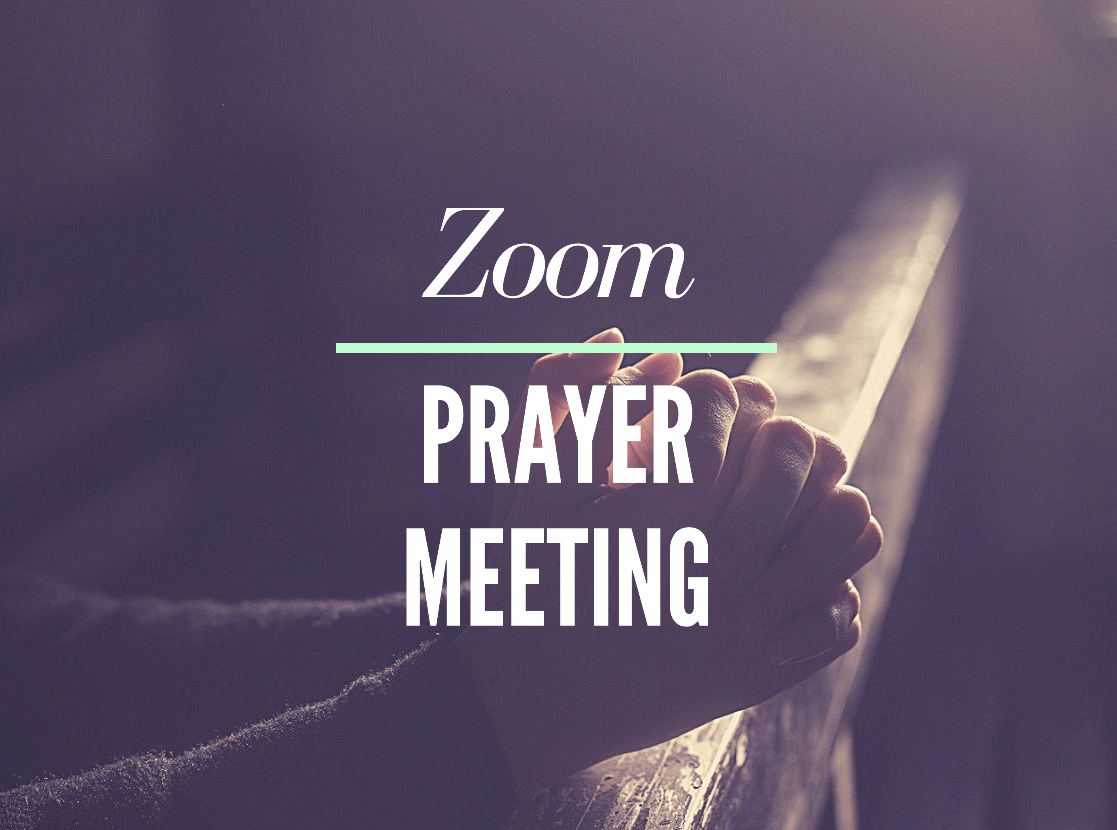 Sunday, December 27 | 2-3:30pm
Come and join us for our church wide prayer time as we reflect on 2020 and look forward to a New Year!
Register Here
---
CHRISTMAS SPECIAL OFFERING
Each year, during Christmas, Easter, and Thanksgiving, FBC collects a special offering that is used to support various causes and organizations.
This Christmas, the special offering will go towards supporting the Arab Baptist Theological Seminary (ABTS) in Beirut, Lebanon. The explosion that happened on August 4, 2020 has caused 202 deaths, 6,500 injuries, USD 15 billion in property damage, and an estimated 300,000 people have become homeless. ABTS has sheltered over 70 people who have lost their homes and is helping with clean-up and food distribution for workers who are deployed to the explosion site. Watch a video update from the Canadian Baptist Ministries:
If you would like to contribute to this offering, there are two ways to give. You can give online by clicking here. Please make sure that you select "Christmas Special Offering" under the Fund category. You can also give by mailing in a cheque. Please indicate that it is towards the "Christmas Special Offering" on the memo section of the cheque. Donation deadline: December 31, 2020.
Designated Gifts: It is FBC's policy that designated gifts will be used solely for the stipulated purpose of the designated fund. However, when the purpose or project has been completed, or the special restricted fund has been closed, or the purpose of the special restricted fund cannot be completed as originally planned, the remaining capital will be distributed at the discretion of the CLT.