WEEKLY REFLECTION
---
A VERY SPECIAL ONLINE CHRISTMAS PARTY FUN TIME
Virtual church services, school classes, business meetings and even family gatherings have become commonplace over the past few months. This is a particular drag during the holiday season where the idea of fellowship is strongly encouraged in all of the stories, songs and movies that we see. So when it came to planning our regular church events centred around Christmas, the question was how to maintain that sense of community and togetherness in an online medium that is so one-sided? In particular, how do we have a Community Carol Sing that still felt like we were part of a community?
At first, we thought of safely singing carols together in multiple small outdoor gatherings. That way we could meet face-to-face, the first time for many of us since the pandemic began. Those plans were squashed as new safety restrictions came down hard in late November. I suggested that rather than cancelling the Carol Sing, we move it online—a move that would only make sense if we utilized the many Zoom features to create as much audience participation as possible. This wouldn't be like a virtual meeting where you just listen to a speaker, nor was this like our online services where the viewer is a passive participant. No, this was an event that cast the viewer as a key component in the merriment and festivities. In fact, this year's Carol Sing couldn't have happened in a live venue in any way.
Hosted by myself and Katie, as well as Courtney and Robyn Klassen, together we sang songs (some of them with the audience on mute, some not), received jokes from the audience (some of them mildly inappropriate), played games (featuring our pastor's wonderful drawing skills) and voted on many important topics like the best Christmas album of all time and whether shortbread is better than gingerbread. We wrapped up the night with a special singing of Silent Night by candlelight and then even spent some time catching up with each other in small breakout sessions. It was an evening of laughter and excitement.
With everyone so involved, it was hard to believe that I was just sitting at a piano in a corner of my own house. The cold, lonely feeling of an online meeting gave way to the comforting fact that we are all in this together and that we are still a community that cares for each other and lifts each other up. At some point, this pandemic will end and we will all be able to gather in the same building once again, but it is truly wonderful to know that we are still a community together even though we are apart. God has been good to us at First Baptist Church and He will get us through this final stretch of the pandemic and guide us through the next chapter in our lives as a church as we become displaced once again. But based on our Very Special Online Christmas Party Fun Time, I have full confidence that our community will continue to stay strong.
Kurtis Findlay
---
TREASURER'S REPORT
Proverbs. 3:9–10
Honour the Lord with your wealth and with the firstfruits of all your produce; then your barns will be filled with plenty, and your vats will be bursting with wine.

This year has been unusual, frightening, sad, and lonely. And yet, we can look back and see that God has been with us through everything. Through every hardship, and crisis, and scare. When the pandemic started in March, I did not believe that I would be writing you two weeks before the end of December with such a financial position. PRAISE THE LORD! This is the work of the Lord. This is the love of His Church. This is the kindness of strangers. So, as we find ourselves coming to the end of 2020, still sad and lonely, we have great hope. Hope for the end of suffering. Hope for the end of isolation and fear. Hope to be together again.
Giving is an act of faith, love, and hope. As we look forward to 2021 and an end of the pandemic, we also look forward to our displacement and a new chapter in the story of The First Baptist Church of Vancouver. I ask you to prayerfully consider your personal giving for 2020 and how we may respond to His Word. I ask you to consider your giving to His Church now, and to His developing downtown Church through the Heart for the City Campaign.
In Christ,
Laine Bosma
Donation deadlines:
If made in person, gifts must be received by Dec 31.

Cheques must be dated on or before Dec 31.

If mailed, envelopes must be post-marked on or before Dec 31.

For online gifts, only transactions reported by your bank as occurring on or before Dec 31 2020 will be recorded as 2020 gifts.
---
COMMUNITY STORIES
CHRISTMAS WITH THE DOUGLAS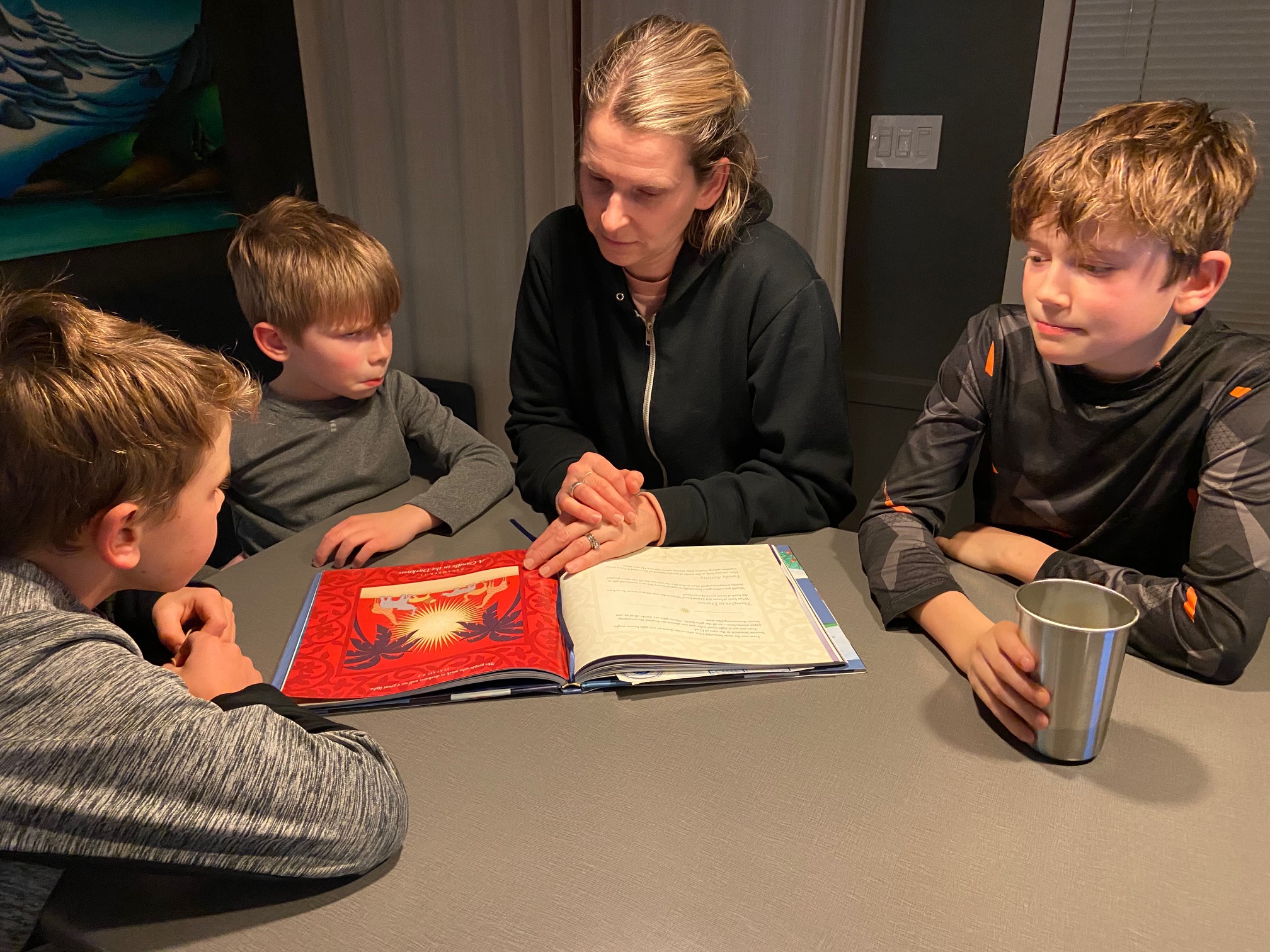 Creating Christmas traditions has been something our family has been very intentional about. Every Christmas we travel to Calgary to be with our extended family, this will be our first year not being there. This year we have decided to create new traditions and one of our favourites is enjoying a daily reading from Ann Voskamp's Unwrapping the Greatest Gift – A Family Celebration of Christmas. The readings have been the perfect way for our family to actively wait for something better especially during this Covid advent season. There is a lot of hope for what is to come.
-Kara Douglas
---
Merle MacKenzie Circle Candlelight Gathering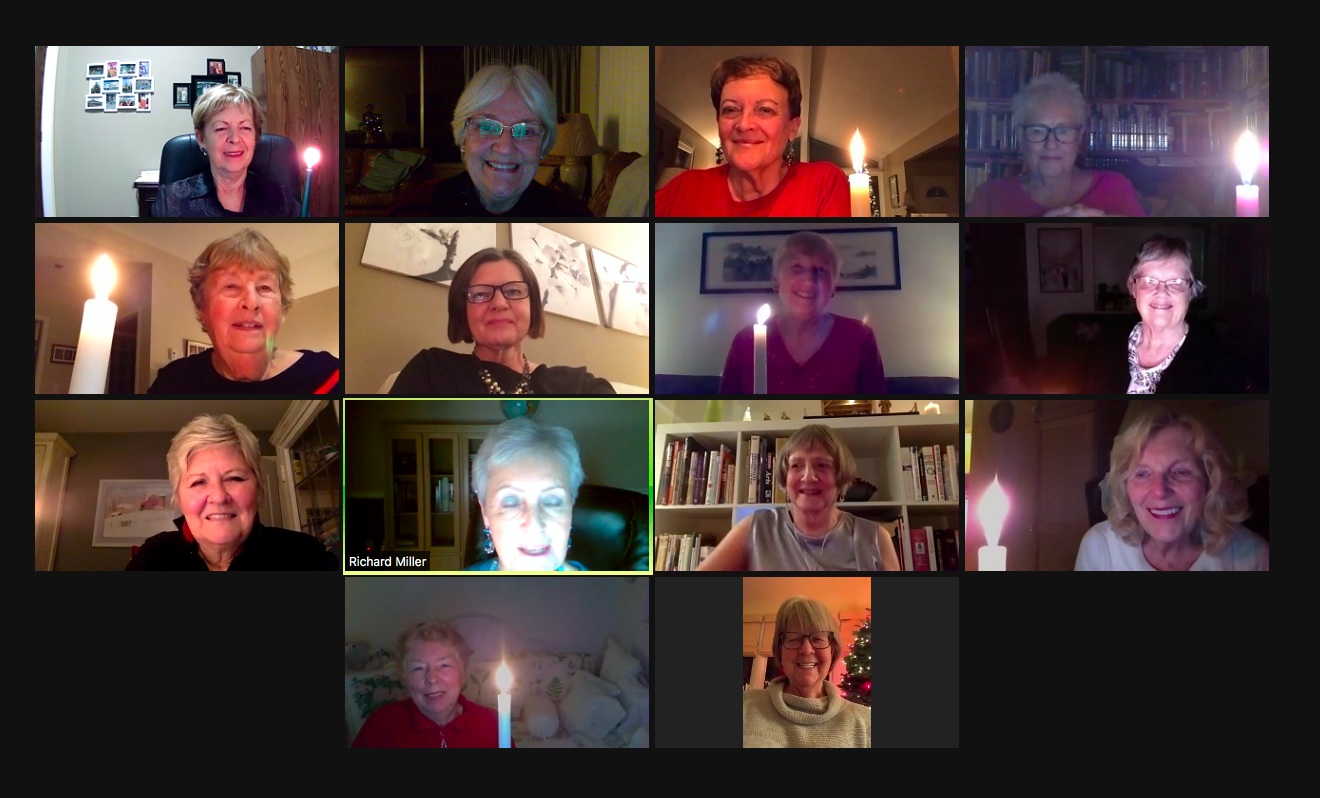 Since the Merle MacKenzie Circle was formed in 1959, the group has been meeting each month and a highlight is always the Christmas gathering. Last Monday, we had our first-ever Zoom Christmas party. Although not everyone could be there, fourteen friends gathered for a lovely evening of talking, laughter, sharing special Christmas ornaments, praying, and reminiscing, even nibbling on some Christmas treats. There was a surprise visit from Santa (aka Jane Brown) who gifted us with a creative, 2020 version of The Night Before Christmas. With our candles ready in advance, we had a quite special candlelight service of readings and carols, finishing with a rendition of Joy to the World with full orchestra and choir – certainly a much more impressive version than we usually manage on our own. We all have so much to be thankful for and meeting with friends, new and old, is one of our great gifts in life. Welcoming new friends is always fun too so be sure to let us know if you'd like to join us.
-Mary Cramond
---
MacToo Circle Christmas Gathering
Blame it on the candles, if you want, but one thing led to another! In November, a small, well used, candle and matches were snail-mailed to twenty-six MacToo Circle members. These friends realized they wanted to see each other when they lighted their candles. So Helen learned how to Zoom and chose meaningful readings, unique Christmas stories were told, our candles were lighted as Anita played Silent Night on her grand piano.
Just like every year, the candle lighting was a very special moment that no one wanted to end. So instead of leaving, more Christmas stories were told. Stories about Lydele in England hanging her Dad's socks at the end of her bed, the worst Christmas Myrna had ever had when she opened her gift early, Pat baking her mother's Christmas cake recipe every year but having to stand six feet away from her grandson as they baked it this year. Trudie's satisfaction that she had already made her Christmas cake. Shirley told about Papa Noel visiting when she lived in Bolivia. Marlene, as a child in Germany was entranced on Christmas Eve by her Christmas tree glowing with real candles and unwrapped presents beneath. Someone told of the sadness of stockings and gifts lost by an airline then happily delivered at 3 a.m. on December 25th. Diana spoke of the blessing of having already celebrated Christmas 2020 with house guests who had to leave for home. Linda shared a memorable Christmas when the best gifts didn't cost anything. Others remembered the lumps of coal or mandarin oranges always found in the toe of the stocking or how a December 24th birthday was never overlooked even in the busyness of Christmas. We heard of one little girl who creatively took her own Baby Jesus to an empty manger scene she saw in a West Vancouver church. In India, Helen had searched with her Dad for a perfect Christmas tree and found that a thorn bush was perfect for hanging her paper ornaments. In this year of so much pain in our world, we smiled to learn Christmas morning breakfasts can range from homemade donuts and apple pie or ginger cake, to cinnamon buns, or the taste of soft gingerbread and marzipan.
We blew out our candles and closed with the words of Henri Nouwen. "Hope means to keep living amid desperation, and to keep humming in darkness. Hoping is knowing that there is love, it is trust in tomorrow, it is falling asleep and waking again when the sun rises. In the midst of a gale at sea, it is to discover land. In the eye of another it is to see that she understands you. As long as there is still hope there will also be prayer, And God will be holding you in His hands."
-Linda Zlotnik
---
Christmas Craft Outreach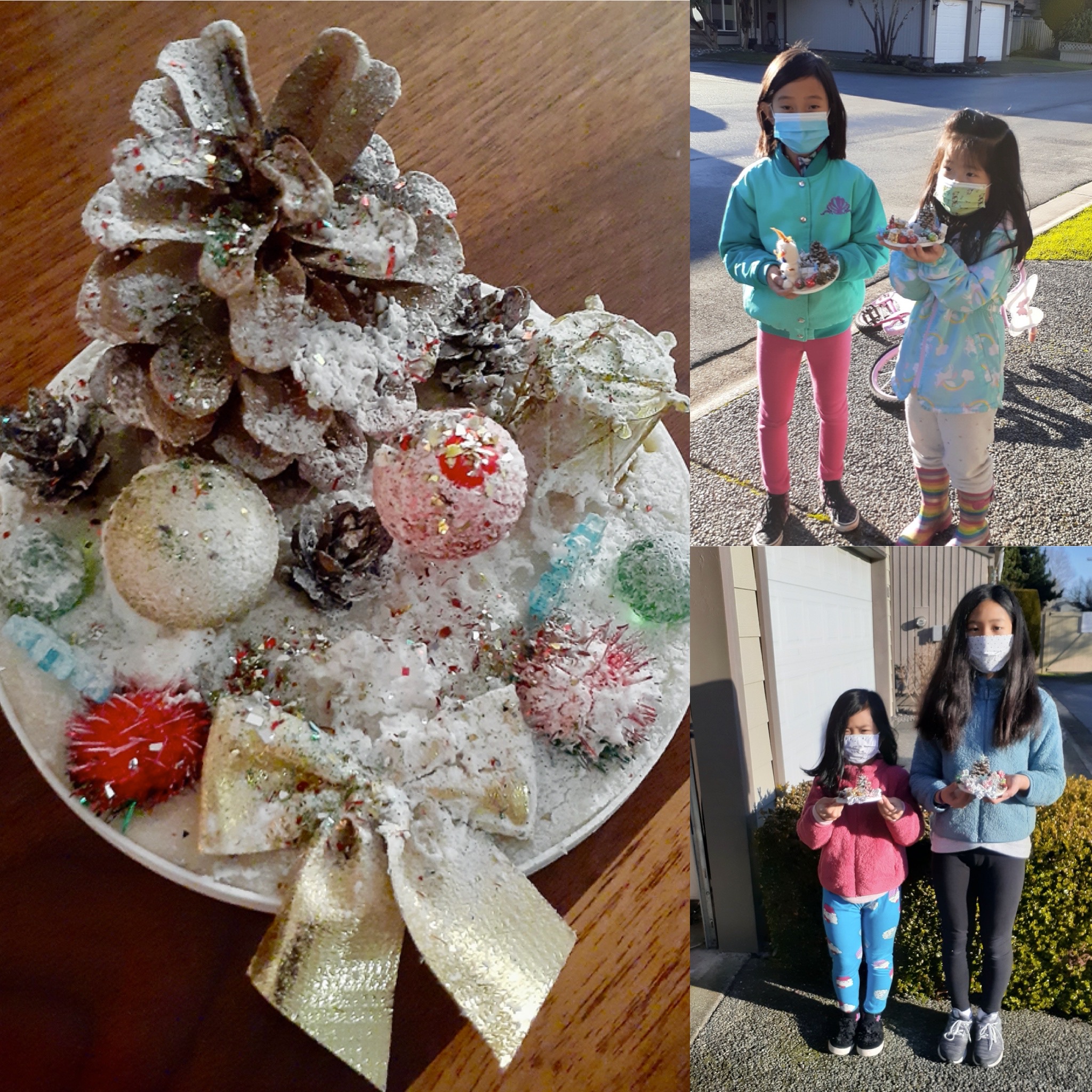 I live in a townhouse community with 38 units. "The Art of Neighbouring" seminar in May inspired me to set a goal to learn the name of at least one person in each unit. Over the last couple of years a number of units occupied by seniors were purchased by couples with young families. This summer I connected with nine girls ranging in age from six to twelve years who were playing outside most days. Through them, I learned the name of at least one of their parents. Pretty cool at my age to hear one or two girls racing by on their bicycles and calling out "Hi Wendy"!
When thinking about how I could connect with these girls over the Christmas season, I decided that I could teach them a craft: a little Christmas centrepiece made with a margarine lid, play dough and lots of baubles from the dollar store. Spray it with snow and add glitter and it is gorgeous! I wrote out an invitation, made a sample, and then knocked on doors and spoke to each parent. They were a little surprised by my visit but were really delighted to have their daughters participate. I invited nine girls and eight came.
Because of the pandemic, I had to hold the craft time in my garage with the door open. I wore a mask and asked the girls to wear a mask. I decided that with social distancing I could manage three or four girls at a time, so each girl had to choose one of three times that I offered. My invitation welcomed parents and grandparents who wanted to observe the process.
The day turned out to be cool but bright and sunny so having the garage door open worked well. The girls all came with masks and willingly used the hand sanitizer when they arrived. They were excited about my "project" and wanted to know how I thought of it. I told them that a friend at my church had told me about it a long time ago and I had shown many children since then how to do it. They had fun together and were pleased with what they had made. Overall a happy time for everyone, including me!
The pictures are of the sample that I made and some of the participants.
-Wendy Bredo
---
CHRISTMAS WISHES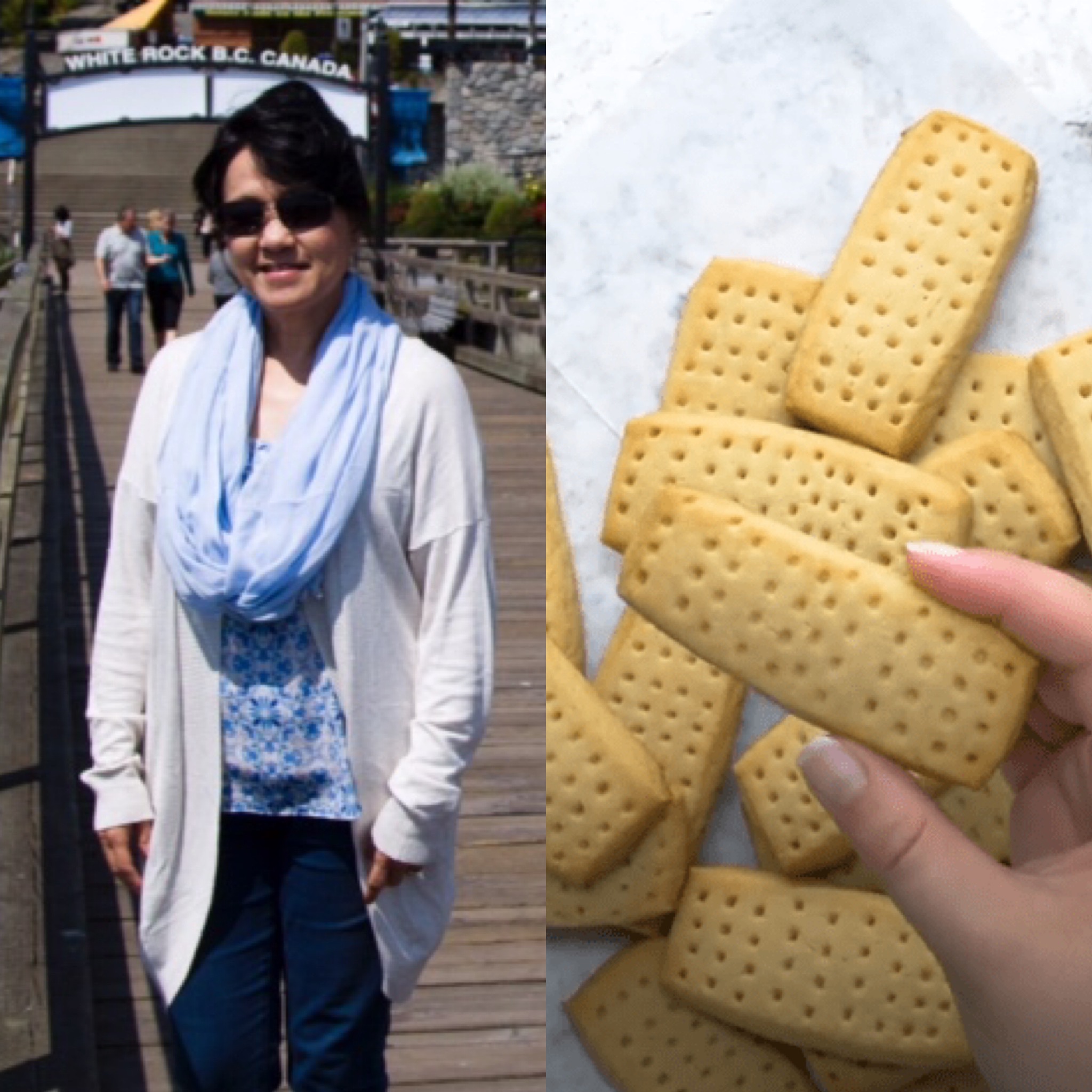 Hello FBC friends,
Let me start by saying that my family and I are well and I hope you are too. After leaving FBC, I was hired by a Richmond Church as Secretary and have been blessed with the responsibility of putting together the weekly worship materials for the online worship services and other duties. I'm truly thankful that God continues to provide and guide me in my faith journey especially during this Pandemic which has caused many challenges for many.
Since the pandemic and when I'm not at work, I keep busy by trying new recipes and cuisines, practicing my baking and I also learned how to sew a face mask! I recently came across a really simple shortbread recipe which I'd like to share with you. I hope you enjoy making the cookies as much as I did. They are great to share with family and friends and especially delightful with a hot cup of tea (or coffee)!
Christmas will be very different this year because of the Covid-19 restrictions for me and my family. Since we are unable to meet, we decided to have a virtual Christmas gathering with an ugly sweater and best looking Christmas tree contest. The winner gets to request songs for the rest to sing or play on a musical instrument. If the loser can't sing or play an instrument, dancing is acceptable. Then there's the virtual family band. Now that's what I'm really looking forward to. Fa la la la la la la la la!
I guess that's all from me. Take care and stay safe, FBC family. Let me end by wishing you all a blessed Advent & Christmas season and a Happy New Year 2021. May God's love and grace be with you always.
Much peace from my family to yours,
Maureen Natusch
---
CHRISTMAS EVE READINGS & CAROLS
We look forward to our Christmas Eve service every Christmas season and, like most things, it looks a bit different this year. Still, we have a beautiful readings and carols service planned and we hope you can be a part of it. The service will feature musical numbers, carols, readings by intergenerational congregants and a nativity tableau. The video will be sent out via First News at 9am on Christmas Eve. Click below to watch a trailer: