How are you structuring your day staying at home? This week, we have Rebecca sharing some of her daily rhythms and spiritual practices. Click the video below to watch.
Read the full liturgy Rebecca mentioned in her reflection here: A Liturgy for Those Flooded by Too Much Information by Douglas McKelvey
---
Speaking of spiritual practices, we came across these beautiful paintings shared by one of our FBC members, Sandi Smoker, who is a gifted artist.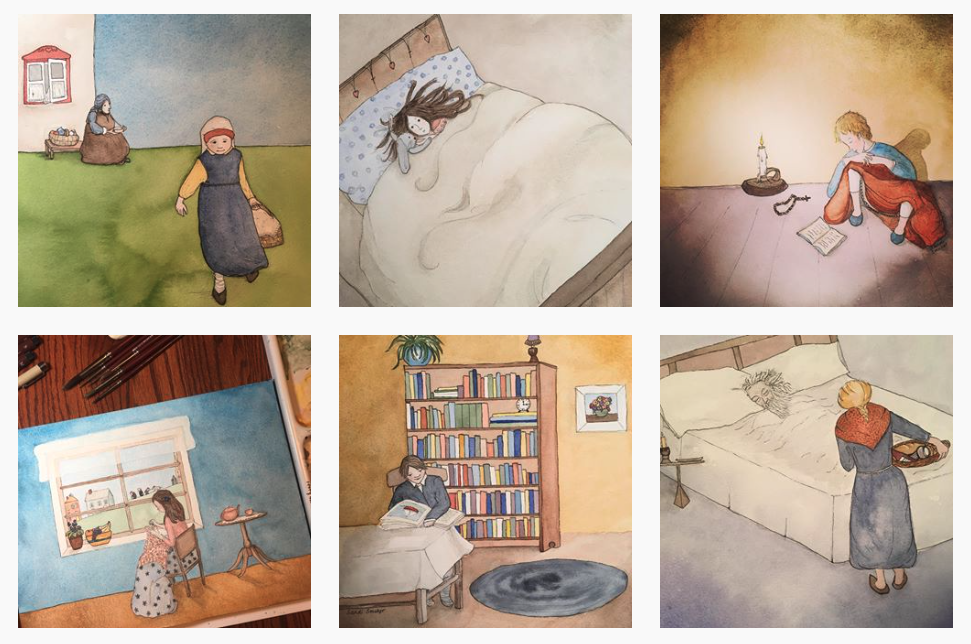 "Painting, for me, has become an important part of my spiritual practice, a natural expression of devotion from the stillness and quiet of morning prayer and scripture reading. Over these past weeks as I transitioned from prayer to painting, I felt my own fears and longings, my gratitude and helplessness emerge through colour and line. Sharing them with my community on Facebook and Instagram seemed like a good way to soften the impact of our situation by simply being in solidarity with each other. Scripture encourages us to comfort others through the comfort we have received. I feet the Holy Spirit's comfort as I paint and I paint to offer myself up as a comfort to others." - Sandi Smoker
See more of her work at @smokeypointarts
---
PASTORAL CARE/KEEPING IN TOUCH
During this time if you have any pastoral care needs, please do reach out to us. We've assigned Pastoral Team members to serve as Area Pastors, the list is below. Or, if you know of anyone that could use pastoral care, please do contact us as well.
Anthony Brown – North Shore
Justin Kim – West End, Downtown
Rebecca Thornber – West Point Grey, Kitsilano
Filipe Balieiro – West Point Grey, Kitsilano
Stuart Campbell – Cambie, South Granville, Oakridge, Kerrisdale
Daniel Foster Fabiano – Coquitlam, Burnaby
John Tsang – Vancouver East, New Westminster, Delta, Surrey, Richmond
Bob Swann – Richmond, Shelter, Homeless friends, volunteers, and workers
Area Pastors will work with the leaders of our Connection Groups based in their area. If you have any care needs, please contact your Connection Group leader or Area Pastor. We are ready and happy to help and support you. You can also reach us by calling the church office or email us at .
---
CALL TO PRAY
1. Noon Time Prayer
We are inviting you to pause in the middle of the day, at 12noon to pray for 10 to 15 minutes. It will be encouraging to know, that as many of us as possible, will be uniting our hearts to pray in this season. If for any reason, noon time does not work for your schedule, then perhaps at 7:30am or, 10pm. There are many things that we can pray for but if you would like additional guides, here are two options. First, use our weekly FBC prayer guide. If you'd like to receive that (it comes out Fridays), please send an email to . Secondly, If you would like to explore a contemplative way to pray, Pray as You Go offers daily prayers with sacred music, scripture, and reflective questions. This resource is both web based and app based.
2. Prayer Needs or Requests
If you have a prayer need or request, you can submit it by sending an email to . Would you please indicate the level of circulation that you would like (confidential, Pastoral team only, church-wide).
3. City-wide, Nation-wide Prayer Movements
This crisis has stirred the hearts of God's people around the city and the country to pray collectively. 24-7 Prayer Canada is a ministry that seeks to help churches pray. They have a number of opportunities to pray with others during this time. Here is the link to that hub of resource. Let us unite our hearts in prayer! Be joyful in hope, patient in affliction, faithful in prayer. Share with the Lord's people who are in need. Practice hospitality. (Rom 12:12-13)
4. A Prayer for these Times
In this time of COVID-19, we pray to you Father, Son, and Holy Spirit.
When we aren't sure, Lord, help us be calm;
When information comes from all sides, correct and not, help us to discern;
When fear makes it hard to breathe, and anxiety seems to be the order of the day, slow us down, God;
Help us to reach out with our hearts, when we can't touch with our hands;
Help us to be socially connected, when we have to be physically distant;
Help us to love as perfectly as we can, knowing that "perfect love casts out all fear." Amen.