We, like many of you, are doing our best to adjust to the new normal. It has been an adventure!
We hope you were able to join us for our very first virtual worship service this past Sunday! While we most certainly miss our in-person worship service, we were encouraged by the participation level and the positive feedback regarding the format and content of our First Worship!
Here are some of the photos shared by the FBC family via social media: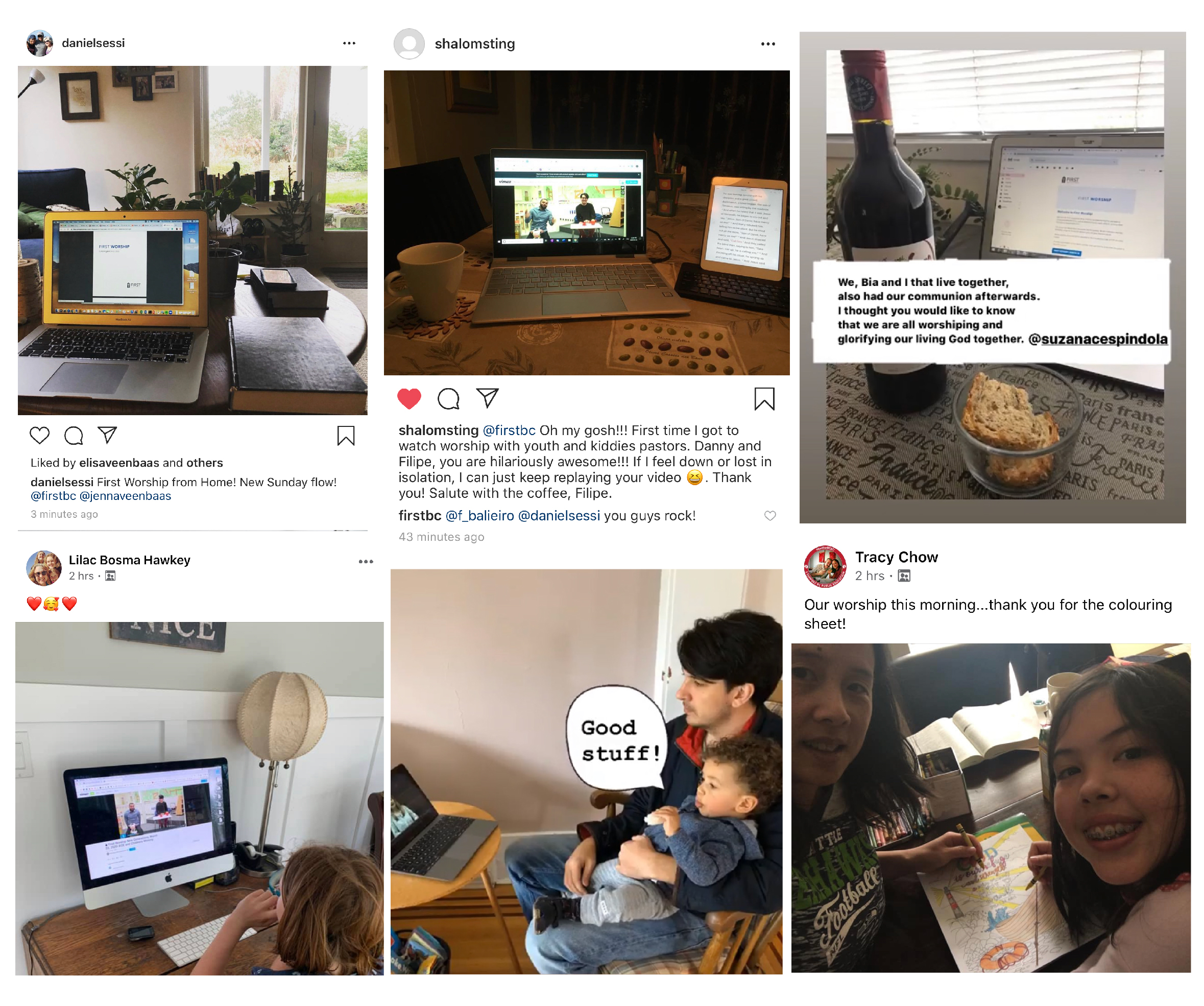 We would love to hear from you! If you have an encouraging story, a morning reflection, a funny photo of your children, a newfound hobby, an amazing Instant Pot recipe--share it with us! You can tag @firstbc on Instagram, @First Baptist Church Vancouver on Facebook, or send them to Angeline. We will share snippets of our community life here with the hope of to keep us connected!
PASTORAL REFLECTION
Click the video to watch a short devotion message by Daniel.
PASTORAL CARE/KEEPING IN TOUCH
During this time when we cannot meet together in person as a church, it is even more important for us to care for one another. To that end, we've assigned Pastoral Team members to serve as Area Pastors.
Anthony Brown – North Shore
Justin Kim – West End, Downtown
Rebecca Thornber – West Point Grey, Kitsilano
Filipe Balieiro – West Point Grey, Kitsilano
Stuart Campbell – Cambie, South Granville, Oakridge, Kerrisdale
Danny Foster Fabiano – Coquitlam, Burnaby, Surrey
John Tsang – East Vancouver, New Westminster, Richmond
Bob Swann – Richmond, Shelter, Homeless friends, volunteers, and workers
See here to get to know our pastors a little more.
Area Pastors will work with the leaders of the Connection Groups/Small Groups based in their area. If you have any care needs, please contact your Connection Group leader, or Area Pastor. We are ready and happy to help and support you. You can also reach us by calling the church office or email us at .
CALL TO PRAY
We are inviting you to pause in the middle of the day, at 12:00 noon to pray for 10 to 15 minutes. It will be encouraging to know, that as many of us as possible, will be uniting our hearts to pray in this season. If for any reason, noontime does not work for your schedule, then perhaps at 7:30 am or, 10:00 pm. There are many things that we can pray for but if you would like additional guides, here are 2 options:
Use our Weekly Prayer Guide. If you'd like to receive that (it comes out Fridays), please send an email to

If you would like to explore a contemplative way to pray, Pray as You Go offers daily prayers with sacred music, scripture, and reflective questions. This resource is both web-based and app-based.
If you have a prayer need or request, you can submit it by sending an email to . Would you please indicate the level of circulation that you would like (confidential, pastoral team only, church-wide).
Finally, this critical time has stirred the hearts of God's people around the city to pray collectively. We are aware of some of these movements and once we learn more, we will pass that information along to you. Let us unite our hearts in prayer!
Be joyful in hope, patient in affliction, faithful in prayer. Share with the Lord's people who are in need. Practice hospitality. (Rom 12:12-13)
GIVE
Giving is an integral part of our discipleship. Your gift will help the church maintain mission and ministry commitments in a time when these commitments are more important than ever. We encourage you to give as an act of worship through these reliable, easy and safe secure systems:
Set up Pre-authorized Debit or Credit Payment by contacting our accountant, Teck-Ngee.

Mail your cheques to First Baptist Church, 969 Burrard Street, Vancouver, BC V6Z 1Y1.
ANNOUNCEMENT
For those internationals in our family: To help our English levels continue to grow and to maintain a sense of community, Stuart will be posting a daily link on the Internationals WhatsApp and Facebook pages to an article, video, or song, along with relevant new vocabulary. It would be wonderful if the posts become a conversation. Email Stuart to join the group.