LIBERIA UPDATE PART II
Bob continued his Liberia stories this week in a livestream session with Kurtis. If you missed the live session, click the player below to watch the recorded video of the update.
---
AREA PASTORATE
For most of us, it's been 5 Sundays since we last met together for worship because of the Covid19 pandemic restrictions. One of the things that we quickly shifted over to, in terms of pastoral ministry, was to divide up the city into areas and assign a Pastoral Team member to oversee the care and connection of members and adherents for that particular area. See the Area Pastor list here.
So far, the area Pastorate system has been working out very well! Some Pastors have enlisted the help of CG leaders, and/or one or two other lay leaders to help with calls for the people in their areas. All of us on the Pastoral team have been so blessed by the opportunities to get to know individuals that otherwise we may never have on a typical Sunday morning. It's heartbreaking to hear from individuals who can no longer physically visit their spouse or parent(s) living in a care home. Even though everything seems to be focused on Covid19, there are many who still need procedures done or ongoing treatments and they must go at it alone, without the usual company of a family member because of the restrictions at hospitals. But in the midst of all of this, there is also 'beauty in the ashes'. There are stories of God's grace where the Lord provided the perfect timing for things that needed to be done. Many are taking the personal initiative to keep in touch with a few that the Lord brings to their minds. And the kindness of individuals offering to help others who may have lost their work during this time. We continue to be the church, the body of Christ, even without the use of a physical building. If you would like pastoral care, or know of someone who needs pastoral care, please send us an email at . I will pass that along to the Area Pastor for follow up.
John Tsang
Minister of Congregational Care
---
FACE MASK DONATION
The Shelter Ministry volunteers are preparing and distributing meals every Tuesday and they are running low on face masks. If you have spare unopened boxes of face masks or cloth masks, the Shelter Ministry would love to accept your donation. Please contact if you would like to help.
---
RESOURCES
Click here for a list of government aids and benefits available for individuals due to the coronavirus pandemic.
Click here for a list of communication apps for group video calls and messaging.
---
BLOOD DRIVE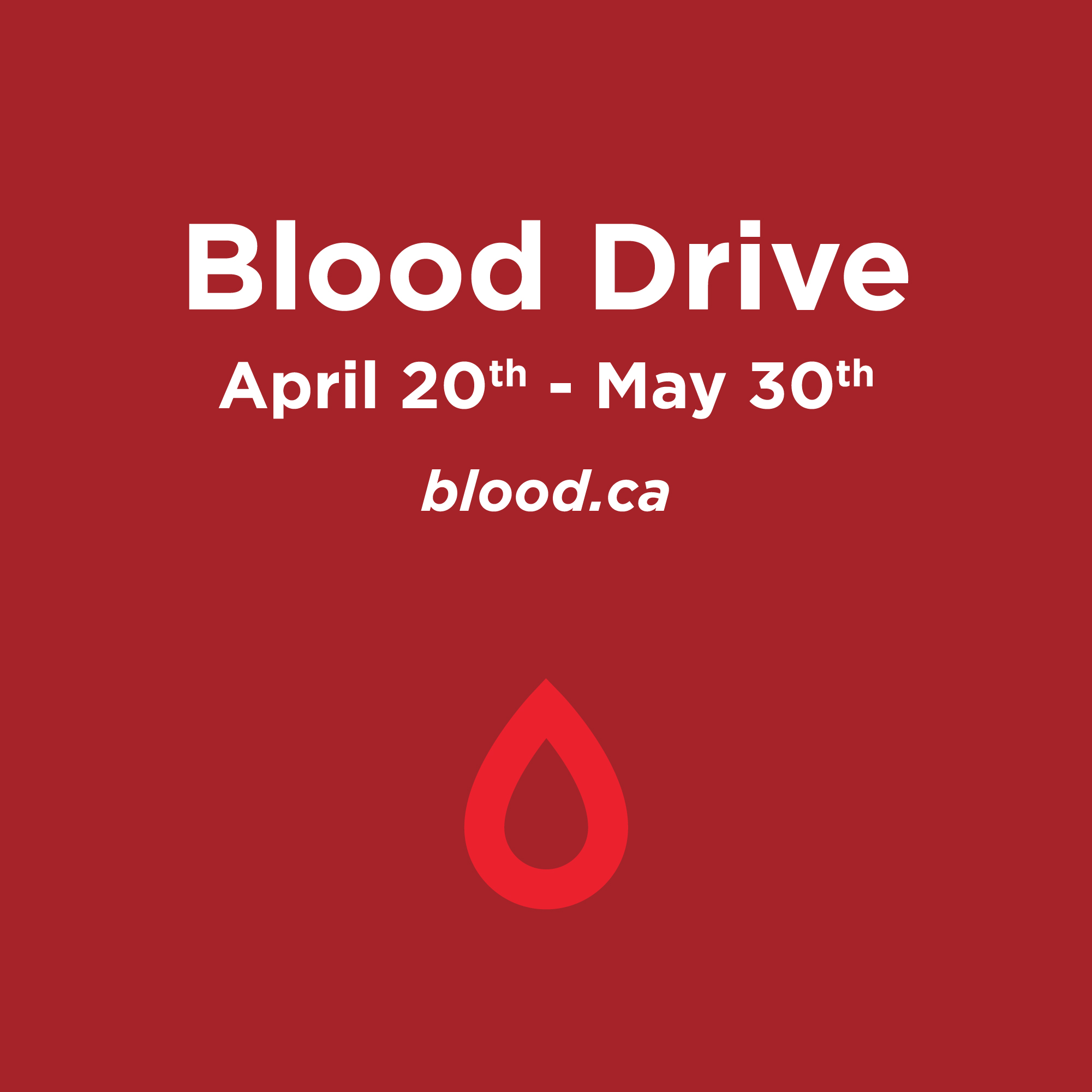 There is always a need for blood donations—and this is especially true during COVID-19. Giving blood is a tangible way the Church can serve our community in this time—so we're doing a Blood Drive along with other churches in the Lower Mainland. We want to encourage those who are able to book an appointment to give blood in April or May.
Note that you MUST book an appointment to give blood—you can do this at blood.ca or by calling 1-888-236-6283.
Read about what Canadian Blood Services is doing to help those giving blood do this as safely as possible at blood.ca/covid19.