At First Baptist Church we are committed to growing together as disciples of Jesus.
Discipleship might be described as a lifelong movement towards Jesus. It involves both growing to know Jesus more, and being transformed into his likeness.
How do we participate in this growth?
Like Jesus' first followers, we learn and grow not only through what we hear, but also by what we do: through the rhythms of our lives, by spending time with Jesus and growing together with other Christians. All of this is done in partnership with the Holy Spirit.
Recognizing that as a community can support each other in this growth, FBC has created a Discipleship Pathway as a framework to show how we seek to foster discipleship and how you can participate.
We encourage you to think about how each of these areas might help to support you in your growth as a disciple of Jesus.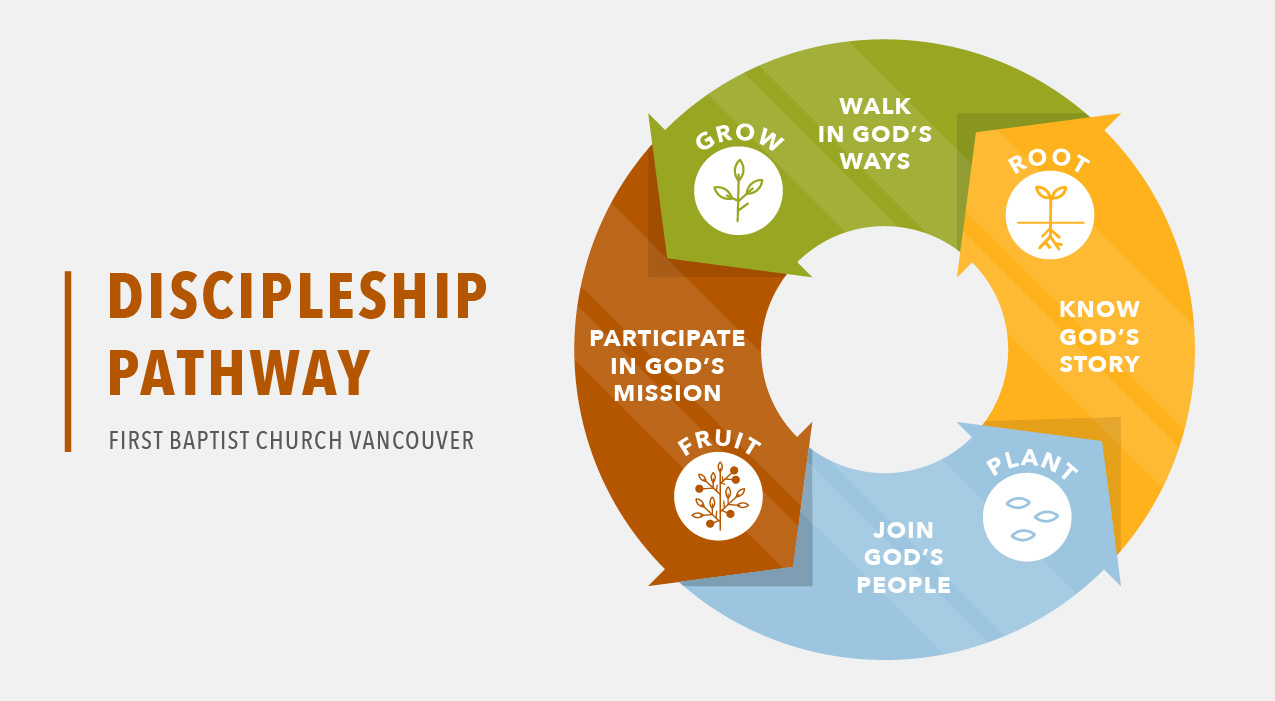 Join God's People
We aren't meant to live as disciples of Jesus in isolation, but we grow in the context of a church family, alongside others who will encourage us.
Some ways to join our community:
Know God's Story
What is the message of the gospel? Who is Jesus and why does he matter? What is the larger story of Scripture and do we fit into this? How does God call us to live today? These are all important questions to answer as we seek to grow as followers of Jesus.
Places at FBC to learn more about God's story:
Growth Classes on Scripture Study
Walk in God's Ways
We are all shaped by our life rhythms. Spiritual practices are rhythms that the people of God have found helpful throughout the history of the church. These include both corporate practices as well as individual practices.
Spiritual practices are not rules that we need to follow. Instead, like the training practices that we might put in place when preparing to run a race, these are wise habits that will help to sustain us in our relationship with Jesus and to equip us for continued growth throughout our lives.
Spiritual practices include: worship, confession, Scripture study, service, sabbath, prayer, solitude and silence, etc.
Places these rhythms happen within our community:
Growth Classes on Spiritual Practices
Retreats
Participate in God's Mission
Participating in God's mission is to be a part of God's ongoing work in our world and to live as citizens of God's kingdom in our daily lives.
It includes telling others about Jesus, loving our neighbours as ourselves, seeking righteousness and justice, creation care, etc.
Ways to participate in God's mission alongside the FBC community:
Finding Where you Fit Course (to come)
Growth Classes on Mission
Serving with your Connection Group